What does a Title Clerk do?
A title clerk job involves working in industries where written contracts — called titles — for the ownership, sale or transfer of vehicles, real estate, land mineral rights or other tangible property are researched and processed. Title clerks procure testimonial documents to verify proper ownership of property in accordance with local laws. In many regions, title clerks work closely with procurement and purchase requisition officers to ensure a smooth transition between the parties results in a transaction.
The most common type of title clerk works in the automotive industry. Resellers of automobiles, trucks, commercial and recreational vehicles must keep records of the receipt and sale of every vehicle that they manage. The title clerk makes sure that vehicle titles are managed in a timely and correct manner so that new vehicle owners, including the financial organizations that loan money, are given proper ownership records in accordance with local department of motor vehicle regulations.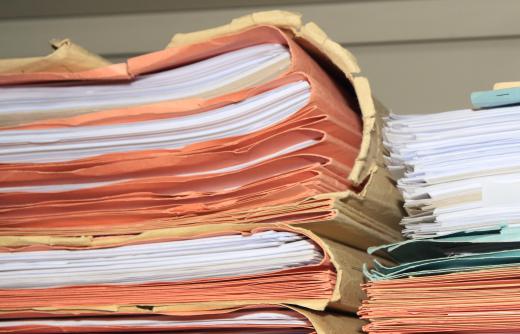 Title clerks also perform an important role in the real estate industry. Those working in the real estate field have the task of researching land records, deeds and other ownership documents for land. In the real estate market this is very important as it establishes not only legal ownership, but also legal and financial responsibility. Taxes are assessed based on actual title and deed records managed by title clerks in real estate agencies, so this information must be absolutely correct.
In some cases, land owners opt to sell a portion of the rich natural resources found on their land, such as gas, oil, coal, precious metals, gemstones or other minerals, in order to increase profits. In this case, land owners must be able to provide written documentation that there are no liens against the land before contracting with outside vendors to handle this process. In this job, a title clerk reviews documents, contracts and title provisions to make sure that the titles and deeds meet legal requirements and that there are no legitimate objections to this type of activity.
In professional occupations, title clerks also work on license boards. License boards review and approve professional licenses for doctors, nurses, attorneys and other high level professionals. License clerks also work in transportation agencies reviewing and approving driver's and operations licenses for those applying for the privilege of operation a motor vehicle for personal or commercial use.
AS FEATURED ON:
AS FEATURED ON:

By: Steve Morvay

Properly kept title records can eliminate property ownership disputes.

By: Marzky Ragsac Jr.

A conveyance is the transfer of legal title to property.

By: Deklofenak

The most common type of title clerk works in the automotive industry.