What Does a Newborn Photographer Do?
A newborn photographer is someone who specializes in taking pictures of newborn infants. Sometimes these professionals also offer portrait services for pregnant women and older infants or children. They may have a studio or they may shoot photos on location or in the client's home. A newborn photographer is typically experienced in positioning and capturing a baby in unique ways through the use of artistic photographic techniques, photo editing, and by using props.
The job of a newborn photographer is to capture a infant's expressions, appearance, and beauty during the first days of life. Parents often use these photos to remember the way their children looked during this period because infants change so quickly. Pictures may be taken in the parents' homes, with older siblings, or with the parents in the picture as well. Common ways of doing newborn portraits involves placing them on props and soft blankets, and getting photos of certain aspects individually. For instance, many parents enjoy having pictures taken of their child's feet or of his or her hand wrapped around a adult's finger.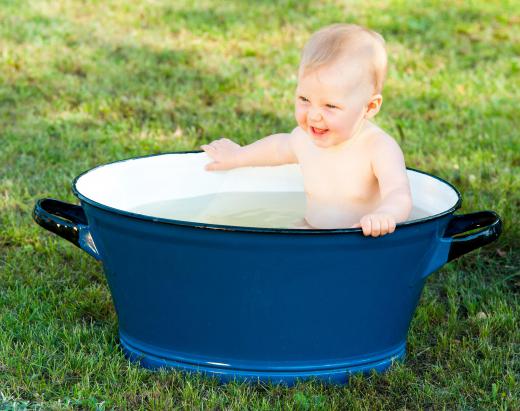 Many photographers work from a studio so that backgrounds can be added. They may also do location shoots; some provide both services to their clients. Prices vary between photographers, but location shoots are often much more expensive than studio offerings.
In many cases the newborn photographer also specializes in maternity and childhood photography. Mothers may have photos taken while pregnant, followed by newborn pictures and additional photos at certain intervals during their child's first year. Older siblings may also be involved in photo shoots, both during the pregnancy and after birth. The infant may also be pictured with both parents.
Most photographers use props in their work to position and accentuate the effects of their work. For newborn photography, these often include teddy bears, bows, baskets, blankets, and any items the parents may request. Themes are also often used. For example, some photographers place angel wings on the newborn or place a bow on his or her back to signify that he or she is a gift.
A newborn photographer may also offer additional services. These often include printing and framing of photographs. New parents often choose to have birth announcements and similar celebratory items printed through the photographer for ease of transaction and quality. Prints and digital photos are often also offered for purchase directly through the photographer.
AS FEATURED ON:
AS FEATURED ON:

By: Rachwalski

Baby photography can be hard work, as the clients don't always want to be photographed, but it can also be incredibly rewarding.

By: Dalia Drulia

A teddy bear is a common prop used when photographing newborns.

By: yanlev

Newborn photographers take photos of the first few days or weeks of a baby's life.

By: bevangoldswain

Newborn photographers have to keep a playful demeanor to coax subjects.

By: Sunny studio

Older siblings may be involved in newborn photo shoots, both during the pregnancy and after the birth.

By: Marcin Chodorowski

Newborn photographers have to come up with creative ways to capture a baby's personality.