What does a Mammography Technician do?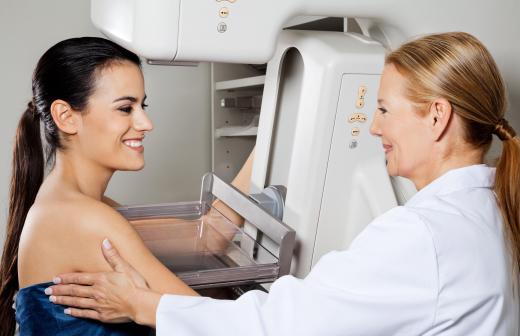 A mammography technician is a licensed health-care worker who specializes in performing breast exams with diagnostic imaging equipment. He or she is responsible for greeting patients, setting up machines, explaining the procedure, and making sure that tests are performed correctly. Following the procedure, test results are given to a radiologist so they can be interpreted and reported back to patients. Most mammography technicians work in general hospitals, women's health clinics, and private doctors' offices.
Excellent communication skills and a friendly personality are important for a mammography technician. Mammography procedures are usually painless and quick, though many women are anxious about the screening process or the impending results. It is important for a mammography technician to make his or her patients feel as calm and comfortable as possible. A professional should be able to fully explain the details of the procedure beforehand and help the patient stay still during screening. After the mammogram is taken, the technician can give the patient an idea of when her results will be ready and what she needs to do regarding payment plans and follow-up visits.
A mammography technician needs to be very familiar with x-ray equipment and the technical details of the procedure. Professionals are expected to know how to perform minor troubleshooting and maintenance jobs to keep machines in proper working order. While a technician is not responsible for interpreting mammogram results, he or she does need to be able to recognize when images are not clear or complete so that a test can be redone.
A person who wants to become a mammography technician can look into radiography training programs at local universities, community colleges, and allied health schools. Most prospective technicians decide to pursue associate's degrees or two-year certificates in the specialty, though bachelor's degrees are also available at many schools. After completing a college program, an individual can look into specific regional licensing requirements. Several hours of supervised on-the-job training and success on a written exam are required to earn licensure in most regions.
There is generally a high demand for licensed mammography technicians in both urban and rural communities. New technicians typically begin their careers as assistants and eventually earn more responsibilities and bigger salaries with experience. A successful mammography technician may be able to advance to a supervisory position in time, overseeing other workers and performing administrative duties in addition to performing breast exams. Some workers decide to teach part- or full-time at local schools to prepare new radiography professionals for careers in the field.


By: Tyler Olson

A mammography technician specializes in performing breast exams with imaging equipment.

By: Picture Partners

A mammography technician needs to recognize when images aren't clear so the test can be done again.

By: jovannig

Yearly mammograms are typically recommended starting at age 40.

By: Marco Wydmuch

A mammography technician may be responsible for greeting patients.

By: jovannig

A mammogram can be used to diagnose breast cancer after finding a lump during a routine breast exam.