What does a Food Server do?
A food server, traditionally called a waiter or waitress in a full-service restaurant, typically takes orders for food and beverages from customers and then serves them the requested items. A food server job description can also entail both preparing and serving food at various other types of venues. Some examples might include fast food restaurants, cafes, and hotels. A food server's pay may be a combination of an hourly wage and tips from customers, with tips often comprising the majority of his or her earnings.
The food server's job responsibilities can vary, depending on the location. In a restaurant, for example, his or her basic duties usually begin with greeting customers as they arrive or as they are seated at tables. Servers might offer menus and describe the restaurant's specialty dishes, answering any specific questions a customer might ask. They take food and beverage orders, relaying them to the kitchen staff. After serving the prepared foods, they might follow up with the customers to ensure a pleasant dining experience. Servers frequently clear dishes from the table, as well. They normally present the customers with their bills and often process their payments.
Many restaurant food servers work in demanding and sometimes stressful environments. They are nearly always standing, and often have to carry food trays and other heavy items, requiring some degree of physical strength and coordination. In busy restaurants, servers may be responsible for several tables full of patrons, and they must either write everything down or remember specific customer requests.
Food server job requirements may vary in other settings. In contrast to servers at full-service restaurants, for example, employees at most fast food establishments and cafes often have to both prepare and serve the food to customers. Many of them work behind a counter, and some of their typical duties might be to assemble sandwiches or meals, as well as to make any requested beverages. Additional examples of some other types of places where someone might serve food include hotels, hospitals, cafeterias, and concession stands.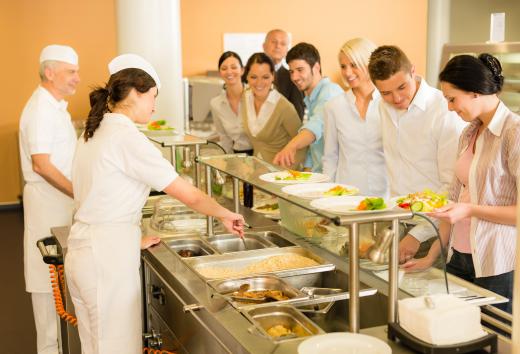 Many young people, especially teenagers, work in the food service industry. To be a food server, little formal education is usually required. Many establishments require employees to have reached a certain age and to have attended at least some high school. On-the-job training is usually offered to new servers, who generally learn customer service tips, as well as food handling and safety procedures. Other traits or skills required of servers normally include a pleasant personality, attention to detail, and the ability to follow instructions.
Food service is typically part-time work, making it ideal for students, or as supplemental income for someone with another job. Potential earnings usually include an hourly wage, plus tips for servers in full-service restaurants. Unless the person works full time as a server, the tips may not be enough to sustain him or her. Another consideration is that most types of employee benefits are generally not available to part-time workers. Therefore, many food servers have more than one job.
AS FEATURED ON:
AS FEATURED ON:

By: auremar

Servers may seat patrons.

By: Yuri Arcurs

Food servers must be able to explain the menu to their customers.

By: CandyBox Images

Food servers might work in cafeterias.

By: Kablonk Micro

Servers who wait tables at restaurants rely on customer tips to augment low hourly wages.

By: CandyBox Images

Food servers often highlight specialties of the chef.

By: Minerva Studio

A food server in a restaurant that sells alcohol should be familiar with how to pour and serve wine.

By: Maya Kruchancova

Food servers may deliver drinks from a bar to a customer's table.

By: Andre van der Veen

Food servers who work at formal, high-end restaurants must have an in-depth knowledge of serving etiquette.

By: Sam Spiro

A food server may find work at hospitals.