What does a Fitness Trainer do?
A fitness trainer is one who provides safe exercise instruction to an individual or group. This exercise instruction might vary based on the individual receiving it, as well as his or her current body type and current physical fitness abilities. A fitness trainer often works for a gym or fitness center, though he or she may be able to be hired privately by individual clients. Others may work in places such as cruise ships, vacation resorts, or even large corporate environments as a benefit to the other employees.
Certification will almost always be needed to find a job as a fitness trainer, either working independently or as an employee at a gym. Each gym may have different requirements, so it is a good idea to research these ahead of time before signing up for a specific certification program. A certification program will typically require different classes and exams that must be passed in order to receive the certification; some fitness trainers will also choose to specialize in a certain area of exercise, which can make it easier for them to find a job once they pass their certification exams.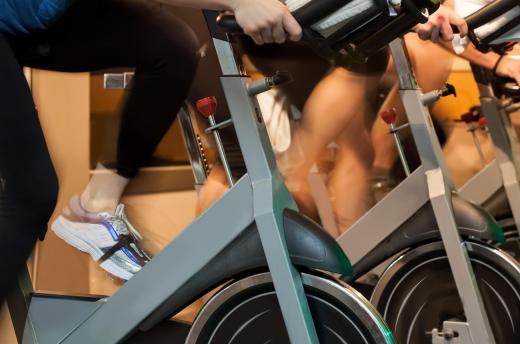 On a day to day basis, a fitness trainer will typically work with individuals to develop exercise programs based on their needs. For instance, someone might come to a fitness trainer because they want to lose weight and get in shape; others will want to learn exercises specific to treating a health problem like diabetes or high blood pressure; some might want to develop strength and endurance specific to a certain sport. A fitness trainer will need to be able to work with all these people to teach them, encourage and motivate them, and help them to learn how to exercise effectively and safely. He or she might also teach techniques such as monitoring heart rate to determine the level of exertion that one reaches during a workout.
Working with individual clients may only be part of a fitness trainer's job. Many fitness trainers also teach group classes, if they have received certification to teach those classes. For example, Spinning® classes taught on stationary bicycles are very popular, as well as classes such as kickboxing or dance aerobics. The more skills and certifications a fitness trainer receives, the easier it will be for him or her to find employment, as well as to find different clients to work with. It is important for a trainer to develop positive relationships with clients, otherwise they will simply find a different trainer to work with.
AS FEATURED ON:
AS FEATURED ON:

By: Igor Mojzes

A fitness trainer might lead Spinning® classes.

By: Syda Productions

Fitness trainers work with both individuals and groups.

By: Maridav

Fitness trainers help people to set exercise goals.

By: taramara78

Certification is almost always necessary to find a job as a fitness trainer.

By: MaxRiesgo

A fitness trainer may plan exercise routines utilizing different equipment.

By: godfer

A fitness trainer may specialize in teaching students about yoga and controlled breathing.

By: Shmel

It is important for a fitness trainer to develop positive relationships.