What does a Computer Specialist do?
Computer specialist job descriptions may vary, as some work at developing new software, others work as data analysts and others in a variety of other capacities including computer design and technology maintenance. Precise duties will vary according to the industry a specialist is hired to work in and whether or not a specialist is working alone or as part of a team. All specialists, however, are hired to perform complex technology-related tasks and are required to be knowledgeable and experienced in the latest information technology systems and programs.
In the United States, most positions within this field require full-time employment. Many computer specialist jobs, however, allow employees to work non-traditional hours or off-site with a growing number of specialists working from home. Some specialists also work as independent contractors.
A computer specialist working as a software engineer develops things like computer applications, different types of business and personal software, and computer games. Software engineers also build entire operating systems for business and personal use, as well as systems that allow network integration and control. Not every computer specialist performs all of these tasks, but most can perform these duties if required to do so.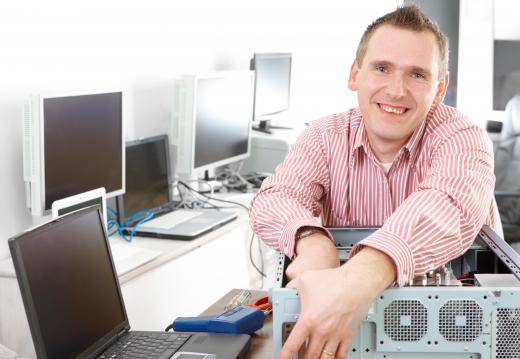 Another type of computer specialist, known as a systems analyst, specializes in information technology (IT). These individuals are usually hired by businesses to make sure that all technological aspects of a business are operating at optimal levels. An IT computer specialist may work individually or as part of a team while selecting the type of technology best suited for a business, as well as testing, configuring and monitoring all of the software and hardware necessary for the company's day-to-day operations. Such technology includes computers and their operating systems, hardware and software, as well as company-issued cell phone technology.
Often, companies will contract the services of a computer specialist known as a system designer to develop customized software, install such software and help with information recovery when system glitches occur. This type of specialist is generally only relied on, however, when an in-house IT specialist or team does not exist. As such, many system designers are self-employed entrepreneurs who juggle multiple contracts with different companies at any given time.
While most specialists are able to work across a variety of different industries, a specific type of computer specialist is sometimes needed for specific industries. For example, an expert who specializes in reading computerized flight plans may work exclusively within the airline industry as a computer expert. Specialists with government security clearances also usually concentrate their efforts solely within the government sector, as well.


By: Oleksiy Mark

A computer specialist employed as a software engineer may create computer applications and various types of software.

By: diego cervo

Computer specialists are hired to carry out complex technology-related tasks.

By: Monika Wisniewska

Some IT professionals specialize in hardware, while others focus on programming software.