What Does a Clinic Office Manager Do?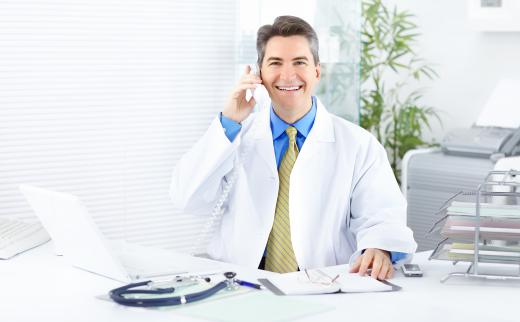 A clinic office manager is the employee at a medical clinic that is responsible for supervising all of the administrative duties and employees who work in a medical clinic. The responsibilities include everything from planning the administrative duties and hiring the employees who are required to run the medical clinic to implementing all of the duties that the clinic office manages. Clinic office manager duties typically include overseeing the billing, managing and supervising the staff and acting as a customer service representative to the patients. In addition, the clinic office manager acts a liaison between the clinic employees and the doctor or doctors that work at the clinic.
One of the primary duties of a clinic office manager is to plan for the proper operations of the administrative office. This includes hiring a medical and billing coding employee to work in the office. The other option is to outsource the medical billing and coding to a company. It is up to the clinic office manager to evaluate and determine which is the most efficient and cost effective way to handle the medical billing and coding for the clinic.
The clinic manager should also determine the types of employees that the clinic needs to hire on the administrative side. Once the clinic office manager knows which types of employees are needed to run the office, then it is the manager's responsibility to identify, interview and hire these individuals. The manager is also involved with setting up the new employees with the new hire paperwork, tax and payroll forms and getting this information to the appropriate parties, such as the company that handles payroll for the clinic workers.
When a patient has a complaint or an issue, the clinic office manager typically steps in to act as the role of customer service supervisor. They will talk to the patient to see what the problem or issue is and then provide potential ways in which they can go about resolving the problem.
The clinic office manager is also the representative for the administrative side of the business. The medical side will have a manager that oversees the needs of the doctors, nurses and medical staff that work in the clinic. The office manager and the medical manager will work together to make sure that the needs of both sides of the business are seen to so that the clinic runs as it should overall.


By: Kurhan

The clinic office manager may be tasked with keeping the doctor's schedule and managing his office hours.

By: mario beauregard

Clinic office managers may hire nursing staff.

By: xy

A clinical office manager may be responsible for hiring a medical and billing coding employee.