What Can I Do with a Zoology Degree?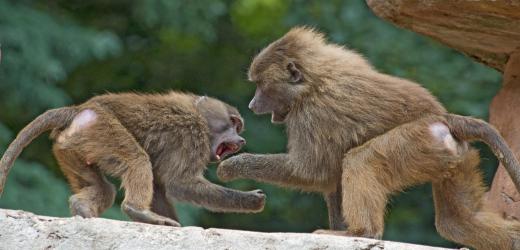 Although many zoology degree recipients end up working directly with animals, the career options that the education opens up are vast and far-reaching. Zoology degrees can lead to careers in research, graduate studies in medicine or veterinary science, or work in cell biology. Most students enter careers in the life sciences, but not all do. Your studies can take you to pharmacy or law school or can lead to advisory careers in national or local governments. With a bit of persistence and creativity, there is little limit to how you use your education.
There are usually as many ways to use a zoology degree as there are reasons for pursuing the degree in the first place. Some students enter the program because they like animals or want to work with wildlife conservation efforts. Others are looking to satisfy their curiosity about organic processes or are fascinated by the science of how animals and insects function on a cellular level.
Students with a bachelor's degree in zoology are usually eligible to work in zoos, in animal parks, and on wildlife rehabilitation teams in entry-level positions. They may also find jobs doing basic research for organizations looking at animal population, migration, and habitat. Most students who leave school with only a basic zoology degree go to work directly or indirectly with animals.
Like many science degrees, zoology offers a robust background for a number of graduate studies, as well. If you want to do more than simply entry-level work with animals, you should think about pursuing a zoology master's degree, or even a zoology Ph.D. These advanced studies programs will equip you to work in the highest levels of wildlife organizations and exercise greater control of complex animal studies and care programs. The highest paid zoology jobs are usually held by individuals with a graduate zoology degree.
A zoology degree can also open the doors to a variety of other science programs and careers outside of the traditional scope of animal studies. Doctors and veterinarians must have the keen knowledge of biological processes taught in zoology classes, and many advanced cell and molecular biology programs depend on that knowledge, as well. The science underlying most animal biology programs can be leveraged in a number of different directions.
Depending on your interests, your degree might lead you to a career outside the traditional scope of zoology. Programs like law, for instance, often require only a bachelor's degree for admission. Zoology students can also usually go into teaching or science writing rather easily.


By: Fotomicar

Zoologists may study animal aggression.

By: bst2012

Graduates with a bachelor's degree in zoology go on to work with animals.

By: Mila Supynska

Some zoologists work in wildlife conservation.

By: leungchopan

People with a zoology degree may choose to work as a veterinarian.

By: Monkey Business

Zoology is one of many science degrees that provides a solid foundation for a variety of graduate studies.