What Are Wheat Bran Muffins?
Dense and cake-like, wheat bran muffins usually use whole wheat flour with the addition of wheat bran and wheat germ. These two ingredients are present in wheat in small amounts; however, in wheat bran muffins, a large amount of both wheat bran and wheat germ are added to increase nutritional content. Since wheat bran can be quite dry, most likely because of its high fiber content, a large amount of liquid is added to the recipe to provide moisture. Pure wheat bran muffins may not include wheat germ in the recipe, and may call for additions like dried apple, cinnamon and ginger for extra flavor.
Wheat bran is a component in the whole wheat grain, and contains a high amount of fiber as well as other nutrients like protein, calcium and iron. Many times, this ingredient is added to healthy muffin recipes to increase the nutrient content, as well as to create a heavier, denser muffin or cake. More often than not, another component called wheat germ is added to wheat bran muffins, increasing the nutrient content of the recipe. Not all recipes contain wheat germ, yet most will add this ingredient to balance the flavor of the bran.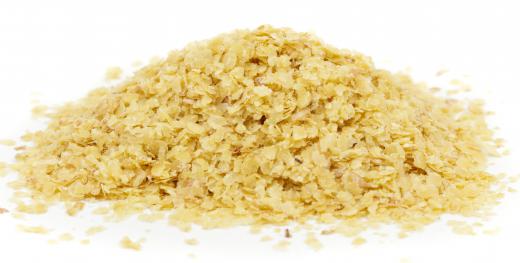 Since whole wheat flour is used in most bran muffins, most recipes call for a large amount of liquid to prevent the batter from becoming too thick. Adding yogurt, melted butter or oil, as well as eggs and milk are all common to prevent the muffin from becoming too hard or dense after baking. Although the final product will be heavier than traditional muffins made with pure white or wheat flour, wheat bran muffins will still contain some moisture and lightness.
Common ingredient additions to wheat bran muffins include dried apple, cinnamon and ginger to add flavor and complexity to the baked product. There are many known health benefits to wheat bran found in bran muffins, most of which are derived from the fiber present in the grain component. Many nutrition experts believe the high amount of fiber in bran muffins can promote regularity and a healthy colon. Whole wheat and its components, like wheat germ and wheat bran, have also been shown to be helpful in blood sugar regulation by slowing down the absorption of glucose into the blood.
AS FEATURED ON:
AS FEATURED ON:

Wheat germ is often added to wheat bran muffins.

Wheat ears along with a small pile of wheat kernels (also known as wheat berries).

By: Vidady

Wheat bran.

A field of wheat.

By: Elzbieta Sekowska

Wheat germ is added, along with wheat flower and other natural components of the wheat plant, to the muffin to boost its nutrition.