What are the Most Common Green Tea Side Effects?
Green tea is a beverage considered by many to be supremely healthy, and diets, health plans, and weight loss regimens all include it as a beneficial component. Though non-toxic, green tea can have side effects when consumed in substantial quantities. To avoid any possible side effects, most health experts recommend drinking only one or two cups per day.
Most green tea side effects are related to the relatively high caffeine content in most tea beverages and supplements. Although the amount of caffeine is lower than in coffee or black tea, there is enough in green tea to cause anxiety, sleeplessness, a feeling of hyperactivity, rapid heart rate, and increased blood pressure. Children and people with medical conditions that are sensitive to caffeine are typically told to avoid the tea or drink it in limited quantities.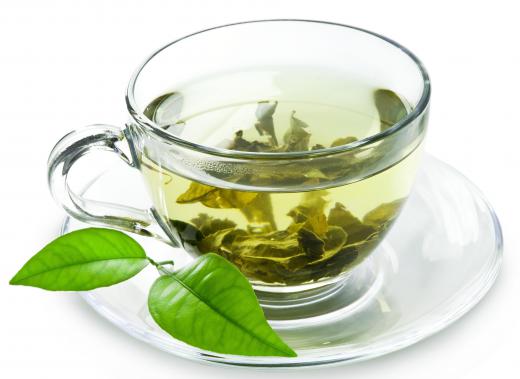 Certain medical conditions may make the side effects of green tea more likely and potentially harmful. Some experts recommend that patients discuss how much they drink with a healthcare professional if they have kidney problems, hyperthyroid disorder, anxiety issues, or blood disorders. Most of these complications are related to caffeine content, and they can sometimes be avoided by drinking decaffeinated varieties.
There is some evidence that it is possible to overdose on green tea, particularly if a large amount of concentrated supplements are consumed. Signs of an overdose may include a pounding heart, excess sweating, vomiting, and abdominal pain or spasms. People who experience these symptoms after drinking green tea or taking supplements should contact emergency medical help or poison control immediately.
Some green tea side effects are related to other properties of the tea. Green tea is typically a pale tan or green color, and it can stain the teeth if they are not properly cleaned. Drinkers should be sure to brush teeth at least twice a day to avoid staining, or brush after each glass of green tea to promptly remove stains.
Although rare, some people have an allergic reaction to green tea. Symptoms may include hives or a rash, swelling of the face or throat, and difficulty breathing. Anyone who experiences these symptoms should consult a medical professional immediately. He or she may also wish to consult with an allergy specialist to do further testing.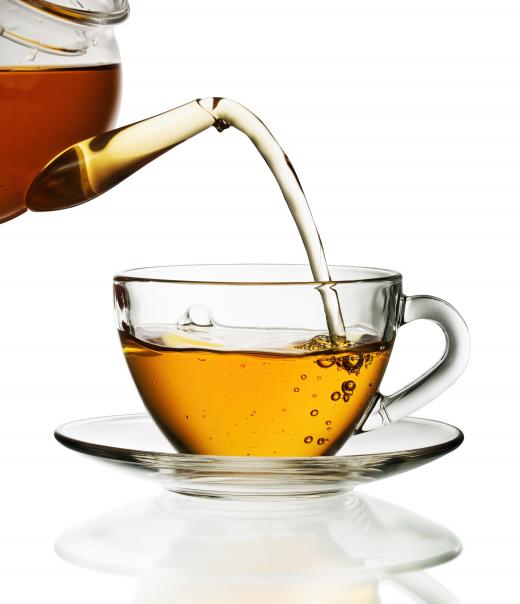 Typically, green tea can be a tasty drink loaded with antioxidants. Some advocates claim that the beverage is extremely beneficial to weight loss and makes a better caffeinated choice than coffee or energy drinks. To avoid the possible side effects, people should drink or take supplements in moderate doses and stop consuming it if they experience any side effects.
AS FEATURED ON:
AS FEATURED ON:

By: NataliTerr

Green tea.

By: Ljupco Smokovski

Green tea drinkers should brush their teeth at least twice daily to avoid staining.

By: Africa Studio

A green tea overdose can cause abdominal pain.

By: aleksandra_1981

Five cups or more of green tea per day is considered too much.

By: Jürgen Fälchle

An allergic reaction to green tea may include hives.