What are the Facts About Smoking Marijuana?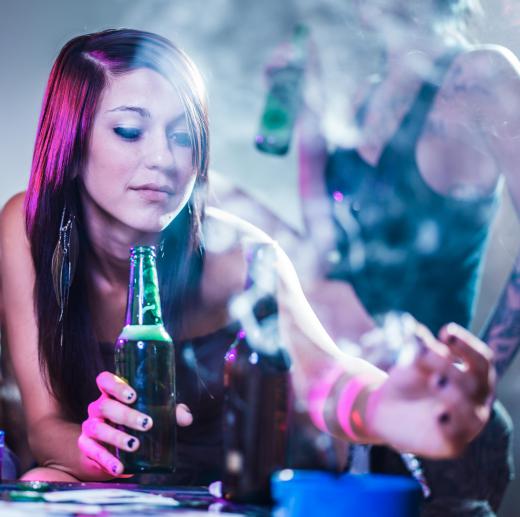 In much of the world, smoking marijuana has become a criminal act and has a reputation as a dangerous drug. The facts concerning smoking marijuana sometimes paint a different picture of the drug; while it can be a health hazard for many people, recent research contends that it can be useful as a medical treatment as well. It is important to keep in mind, however, that smoking marijuana is still illegal in many countries, despite what research or public opinion may dictate.
Smoking marijuana can cause a psychoactive experience: that is, the drug can alter the brain's function, changing mood, thought processes, cognition, and behavior. It does so because marijuana contains a chemical compound called tetrahydrocannabinol, or THC for short. While smoking marijuana is today considered illegal in much of the world, the drug has been around for centuries and has even been considered a function of religious importance in some cultures. Marijuana has only relatively recently become an illegal substance, not to mention a social taboo.
The effects of smoking marijuana are hotly debated. Some research suggests that smoking marijuana can increase the risk of stroke, cause addiction and lead to other more dangerous drugs. Other research suggests that marijuana can actually aid patients in extreme pain. Marijuana is known to increase appetite in patients undergoing chemotherapy, and it can also decrease stomach pain. It has been known to be extremely helpful to glaucoma patients because it lowers the pressure on the eyes. In some parts of the United States, marijuana has been legalized for medical purposes; in other parts of the world, the drug has been legalized for both medical and recreational purposes.
Marijuana must be inhaled or otherwise ingested in order to have any effect on the human body. Smoking marijuana is not the only method of taking in the drug. Vaporizers heat the plant to a certain degree, such that the active ingredients evaporate. The vapor can then be inhaled. Other ways of taking in marijuana include ingesting it orally, though the plant would still need to be heated to a certain degree to activate the key ingredients.
The marijuana plant is indigenous to south and central Asia and has been in use there for centuries. The plant can be harvested and used to make different versions of drugs, each with different strengths and dangers. Other versions of drugs made from the marijuana plant include hashish, which is a concentrated resin made from the female plants. The effects are similar to marijuana, but hashish is more concentrated and usually much stronger.


By: Joshua Resnick

Marijuana can alter a smoker's mood and behavior.

By: Andris T

Marijuana has been known to help patients with glaucoma.

By: Wrangler

Smoking marijuana is typically done in a clandestine manner.

By: janifest

Some U.S. states allow cancer patients and other people with chronic pain to legally purchase medical marijuana.