What Are the Effects of Drinking Too Much Green Tea?
Drinking too much green tea can have several adverse health effects, ranging from mildly irritating symptoms to serious medical complications. Aside from the common side effects of ingesting caffeine, it can also result in potentially dangerous interactions with some medications. It is important to note that for certain people, extremely high doses of caffeine can be fatal. Most medical professionals define too much as being five cups or more of green tea per day.
Like other products that contain caffeine, too much green tea can cause the following common reactions: irregular heartbeat, headache, sleeping difficulties, and anxiety. One serious complication of drinking excessive amounts of green tea is the hindrance of iron absorption, potentially making existing anemia or bleeding disorders more dangerous. Furthermore, high blood pressure can reportedly be made worse in people who already suffer from the condition.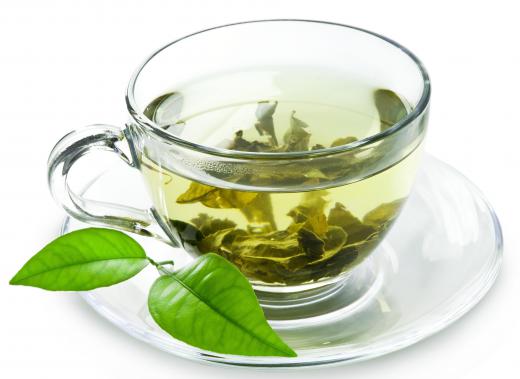 Too much green tea can also lead to interactions with certain medications, either by hindering their absorption or by heightening their effects. For example, consuming large quantities of green tea is believed to slow down the effectiveness of warfarin, an anticoagulant. People are also generally advised to avoid combinations of stimulant drugs, such as amphetamines and caffeine.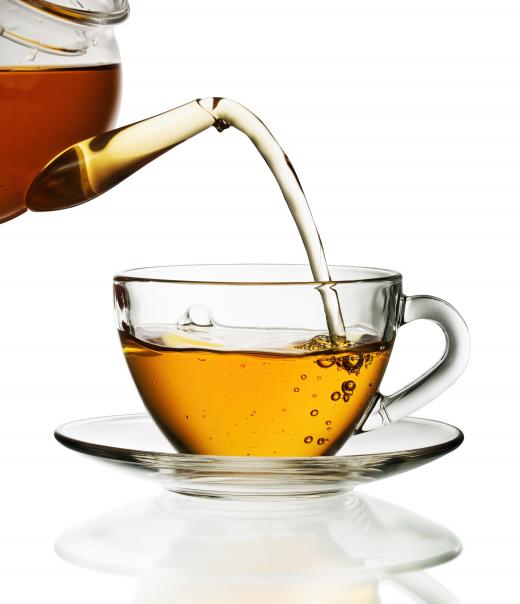 While green tea toxicity may be a concern for some people, it is typically considered more of a risk for those who take green tea supplements. Some studies have found that the high doses of polyphenols in green tea can lead to conditions such as kidney damage and liver disease. The list of touted benefits of green tea extract is extensive and includes helping with numerous medical conditions, such as bone loss. For some people, though, weak bones or osteoporosis may actually result from drinking too much green tea, as it can result in an increased loss of calcium through urine. Although the focus has been more on green tea extract as potentially harmful, many doctors prefer to warn people not to consume too much green tea in any form.
Certain members of the population, such as pregnant or breastfeeding women, might also want to be careful when consuming green tea. For instance, some research has found negative outcomes, such as birth defects, associated with drinking too much green tea either before becoming pregnant or during the first trimester. Anyone concerned about the issues associated with green tea safety should discuss them with a health care provider, who can usually also offer ideas for alternatives to green tea, including caffeine-free beverages.
AS FEATURED ON:
AS FEATURED ON:

By: NataliTerr

Green tea.

By: aleksandra_1981

Five cups or more of green tea per day is considered too much.

By: Shakzu

Too much green tea can cause an irregular heartbeat.

By: niyazz

Too much green tea can exacerbate high blood pressure symptoms.

By: joshya

In some people, drinking too much green tea can lead to osteoporosis.