What are the Different Uses of Vellum?
As vellum has such an elegant, translucently-frosted look to it, it's often used for making invitations and displaying photographs. This makes it a popular paper for both scrapbooking and rubber stamping projects as well as greeting card making. Vellum can also be used for tracing paper and for folding into invitation envelopes.
Vellum envelopes are especially popular for invitations, as they show the invitation attractively before it's open. There are also many colors of this delicate, translucent paper available that will suit any occasion or party theme. The vellum used to fold an envelope can match that of the invitation; square envelopes and invitations can look especially attractive. There are several different ways to use this material when making invitations.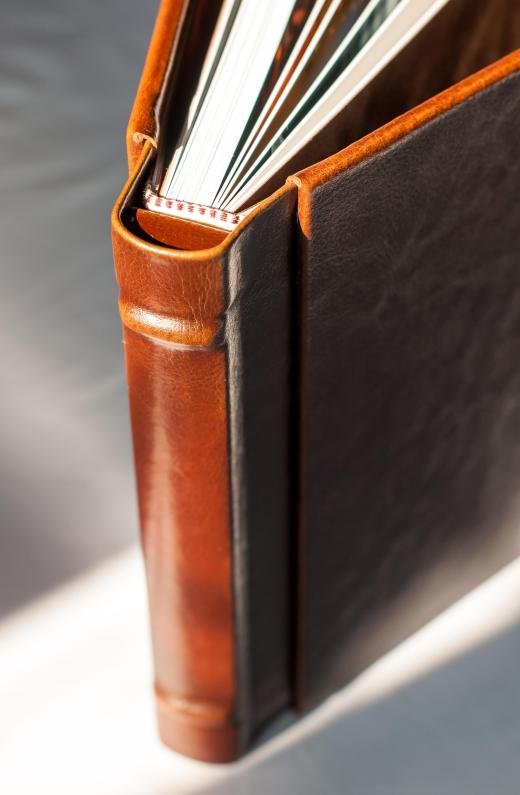 First, it can be used as an overlay to soften the effects of a darkened drawing or bold letters. Second, vellum used as a background such as being glued onto card stock to give it texture can create an interesting backdrop for a printed card or graphic image. Third, the translucent paper may be printed on directly and fastened into the invitation itself. A laser jet printer typically is best for printing onto vellum, as the ink tends to dry faster than that from the ink-jet variety which reduces the chance of smudging. No matter how the material is used, it may be torn to create a roughly elegant edge or cut with scissors for a clean, crisp appearance.
In greeting cards, this see-through paper may be used in similar ways to invitations. Sometimes, a border is created between the front and back of the card and paper. Strips of vellum are cut or torn and glued around the edges of the greeting card to form a pretty, translucent border; plain or text-filled paper typically covers this edging on both the inside back and front. Another way to use this material on a greeting card or other project is as tracing paper; it simply has to be placed over an image in order to trace the lines of the drawing.
Rubber stamped images can have an attractive appearance on vellum. Such rubber stamp techniques may be used in scrapbooking to create borders around photographs. The translucent material is also ideal for placing photographs on top of, so that a border, or matted frame, is left to enhance the pictures. Different colored strips of the see-through paper may also be woven together to frame or mat photos.
AS FEATURED ON:
AS FEATURED ON:

By: SilviuFlorin

Vellum is popularly used in creating scrapbooks.

By: Igor Mojzes

Some people like to use vellum with rubber stamps.