What are the Different Types of Wound Supplies?
There are a number of different types of wound supplies available to medical practitioners and the general public. Some wound supplies are only available to hospitals and clinics through medical supply companies, while others are sold freely in drugstores and similar facilities. It is a good idea for people to keep wound care supplies in the home and in household vehicles so that injuries can be treated quickly and effectively.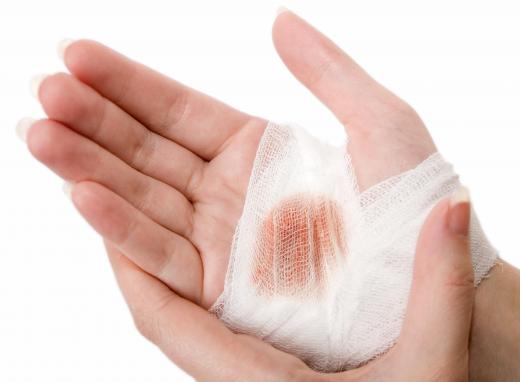 For medical practitioners, different types of wound supplies are available for different types of injuries. These include supplies for burn care, supplies to treat infected wounds, supplies for animal bites, and supplies for puncture wounds. Some examples of different types of wound supplies available to hospitals, clinics, and ambulances include: medicated bandages; tubes for wound drainage; collection pouches which can be attached to seeping wounds; staplers for skin closure; surgical needles and sutures; and specialized wound closure products such as surgical glues.
Different types of wound supplies available through establishments such as drug stores include products which can be used to clean wounds, bandaging products, and ointments which are designed to promote healing. Cleaning products can include antibacterial soaps and sprays along with wound care wipes. Adhesive bandages which can be quickly applied are readily available, along with gauze, wound padding, absorbency pads, and medical tape which can be used to create custom bandages. Supplies for pressure bandages are also available, and medical professionals can also access specialized compression bandages and garments which can reduce the risk of scarring.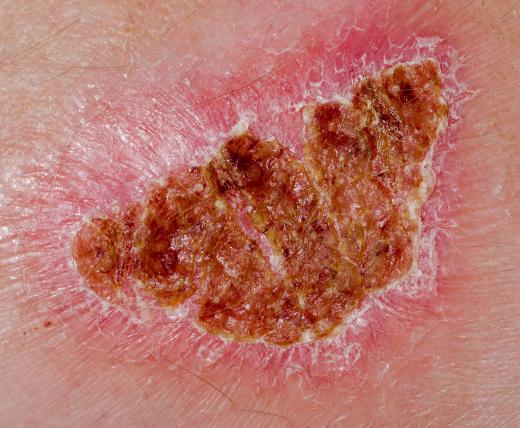 Products designed to keep wounds lubricated, healthy, and free of bacteria are available on a prescription and over the counter basis. Antibiotic ointments and creams are readily available at locations like drug stores, and it is also possible to find powders and liquids which can be applied to wounds. Different types of wound supplies also include protective gear such as gloves and masks that can be worn while caring for wounds to reduce the risk of passing infectious material.
Whether in the hospital or at home, the rules of wound care are fairly simple. The wound needs to be well cleaned at the time of injury, and it needs to be kept clean during the healing process. People should avoid allowing wounds to dry out totally, and bandages may be used to keep wounds clean and to keep fluids which may seep from the wound contained. Additional supportive care is often needed for wounds like deep burns and animal bites.


By: ILYA AKINSHIN

An adhesive bandage.

By: DenisNata

Wound supplies include wraps and gauze.

By: Kelpfish

A wound care nurse may monitor a variety of wounds.

By: roblan

Wounds that become infected can cause serious complications.

By: nito

Compression garments can help reduce the risk of scarring.