What are the Different Types of Wooden Fence Designs?
Wooden fences are an aesthetically pleasing addition to many yards or landscapes, and countless wooden fence designs are available to complement a given area. While the most common wooden fence designs are picket fences and trellis fences, other wooden fence designs may work better with a certain yard or landscape. Other designs include good neighbor fences, horizontal board fences, and sound baffling fences. Each type of fence serves a different purpose and will have a different look, but all will rely on the choice of wood and construction to determine its strength and aesthetic appeal.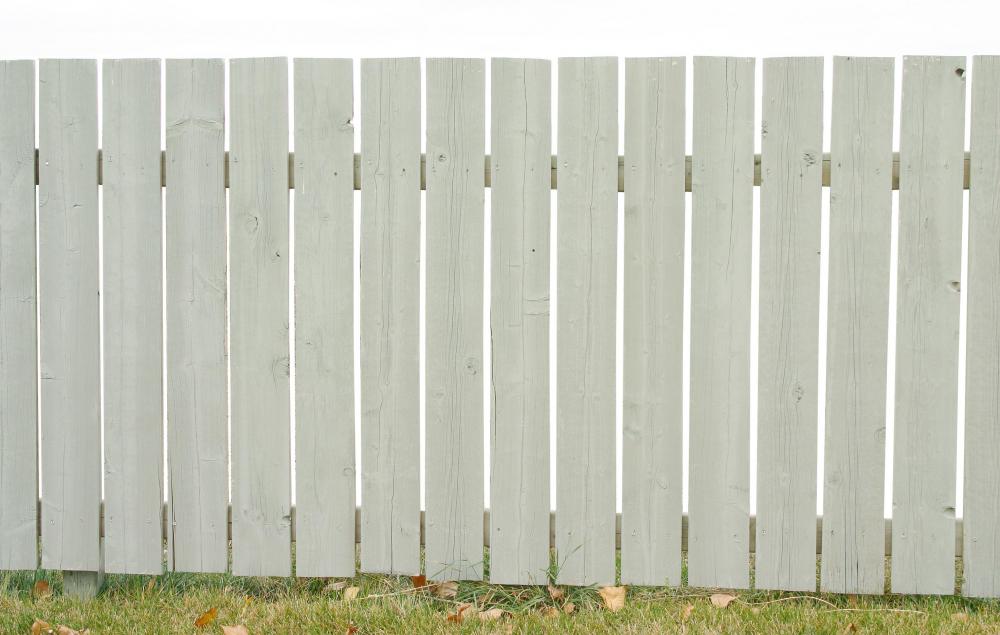 A picket fence is the most common of the wooden fence designs. Consisting of vertical wooden slats affixed to horizontal supports at the top and bottom, the picket fence is one of the most recognizable wooden fence designs. The wooden slats are usually spaced so a few inches of open air shows between them, and the tops of each slat is generally triangular, though more ornate picket fences may have other carving features. Picket fences usually have a hinged gate, to make it possible to access a residence.
Good neighbor fences are wooden fences with a trellis or other open design at the top of the fence. The good neighbor fence is designed to provide privacy while still allowing neighbors to interact through the opening at the top of the fence. Trellises are common at the top of such fences because the openings between the trellis slats allow people to communicate to each other. The vertical slats of the good neighbor fence are placed tightly together so no significant gaps are present between them.
Trellis fences are some of the most visually pleasing of the wooden fence designs. They are constructed in panels that are a few feet in length. Each panel consists of overlapping slats that can be set in a vertical-horizontal grid, or in a diagonal pattern. While they do not afford as much privacy as other styles of wooden fences, trellis fences offer a unique look that can enhance the beauty of a yard, especially when built from attractive woods such as cedar.
Horizontal board fences are usually made for privacy, as they are built with horizontal boards that block a view. Sound baffling fences can be built horizontally or vertically, but in either case, they are built to block an area from sound. They are often seen abutting roadways to protect residences from automobile noise.
A house with a picket fence.

By: Johanna Goodyear

Fence designs can offer privacy and still be aesthetically pleasing.