What Are the Different Types of Vegan Dinners?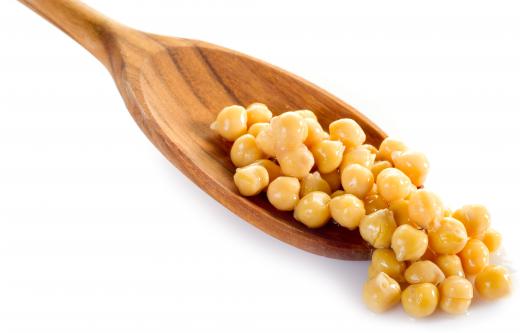 Options for vegan dinners can range from more traditional fare, such as butternut squash soup, to more exotic ethnic offerings like khara bath or Vietnamese crepes. Some vegan dinners feature salad for an entree, such as red rice and quinoa salad with orange and pistachios. Pasta is frequently used in many vegan dinners, including tricolor tomato ravioli.
Soups, such as pumpkin tortilla soup, are often an entree option for vegan dinners. Pumpkin tortilla soup features the vegetables of autumn, such as pumpkin, and avocados from the fall harvest. Chopped corn tortillas add bulk to the soup, which also features diced tomatoes, garlic and dried hot peppers. Other soup options for vegan dinners include: tomato, lentil and vegetable soup; vegetable and barley soup; and leek, potato and pea soup.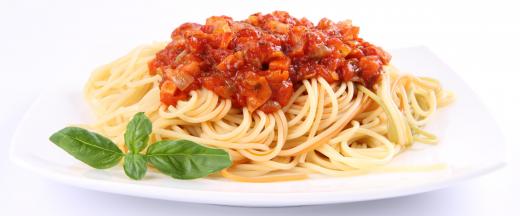 Pasta is a mainstay in many vegan dinners, including pasta with butternut squash, sage and pine nuts. After the squash is baked and cubed, it is tossed with garlic and onion and drizzled with olive oil. Vegetarian bean bolognese features salad beans along with sauteed onions and carrots. White wine, diced tomatoes and fresh parsley add flavor to the dish, which is served over whole-wheat fettuccine.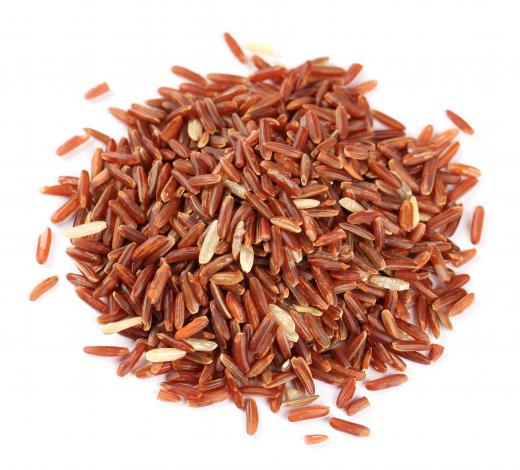 Tofu, which is made from soy milk, is a common ingredient in many vegan dinners. Kimchi tofu summer rolls feature noodles tossed with sesame oil and red pepper flakes. They also contain tofu, carrots and chives. Vegan tofu and vegetable pot pie features potatoes, peas and carrots. Vegetable broth, sage and thyme add flavor to the pot pie's vegetarian gravy. The pot pies have a crust made from all-purpose flour, ice water and vegan butter, which is pressed into a ramekin dish.
Ethnic dishes often serve as good sources for vegan dinners. A South Indian soul food, khara bath, features an array of vegetables seasoned with cumin seeds, mustard seeds and ginger. Vietnamese crepes gain their yellow color from turmeric and are made with coconut milk and rice flour. The crepe filling is made from mung beans, tofu and scallions. The crepes are topped with a combination of fresh lime juice, soy sauce and sugar.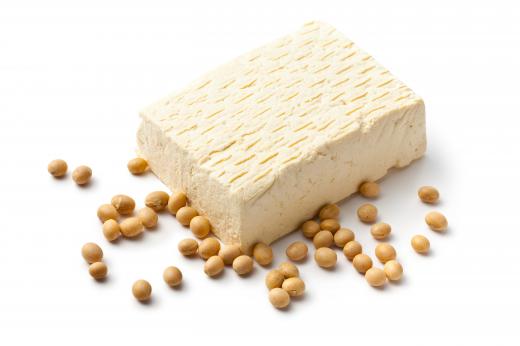 Some vegan dinners consist exclusively of salad, such as tempeh deli salad, which can be served in a pita. Tempeh is a protein-packed, fermented soybean cake which is chopped into small cubes for the salad and mixed with carrot and garbanzo beans. The dressing is made from mustard, apple cider vinegar and a non-dairy mayonnaise.


Garbanzo beans are often included in vegan dinners.

By: monticellllo

Fruit and vegetables, which make up a large part of a vegan diet.

By: teine

Spaghetti with bean Bolognese.

By: IngridHS

Red rice, which can be used to make a vegan dinner.

By: xiangdong Li

Butternut squash pasta is a popular vegan dinner option.

By: Jiri Hera

Tofu is a popular meat substitute among vegans.

By: daffodilred

Mushrooms are frequently used as crepe fillings.

By: womue

Quinoa can be part of a salad served as the main dinner course.

By: Photographee.eu

A fresh salad with soy cheese is a perfect dinner for vegans.

By: valery121283

Bell peppers stuffed with breading make a filling vegan dinner.

By: Sasajo

Vegan pot pie may contains potatoe, peas and carrots.

By: Amelia Crook

Boiled potatoes can be served in many vegan friendly dishes.

By: Viktor

Whole-wheat pasta can be part of a healthy vegan diet.

By: CandyBox Images

When making a vegan apple pie for dessert, make sure that the crust contains no dairy or animal products.