What Are the Different Types of Summer Dessert Ideas?
During hot weather, people tend to want to eat desserts that are light and cool. There are a number of summer dessert ideas — many of which require no baking — that incorporate light pastries, the fruits of the summer season, and treats that have been frozen. Some of the most popular summer desserts include no-bake cakes, fruit shortcakes and tarts, smoothies, ice cream, and sorbet.
In the summer heat, few people want to use an oven to bake desserts. Popular summer dessert ideas include cakes and pies that do not require any cooking. One example of this type of dessert is a no-bake cheesecake, which combines cream cheese, heavy cream, sugar, and vanilla into a mixture which sets in the refrigerator. No-bake cakes can also be made by layering ice cream or sherbet over a pre-made pie crust and then freezing.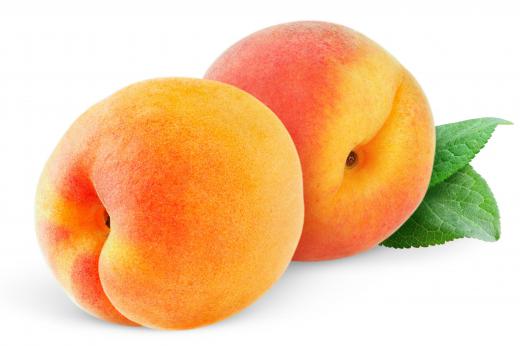 A number of different fruits are plentiful during the summer months. These can be used to make shortcakes or tarts. Strawberry shortcake is one of the most popular summer dessert ideas and can be made by topping a slice of shortcake with whipped cream and fresh summer strawberries. Variations on the recipe include using peaches or blueberries in place of the strawberries, or using vanilla ice cream instead of the whipped cream. Tarts can be a simple thin pastry crust, with a light and sweet cream filling and fruit placed on top.
Smoothies are a sweet and refreshing summer dessert idea that can also be very healthy. Ingredients such as fruit, yogurt, juice, and ice are blended together to make a frozen, fruity drink. Popular fruit combinations include strawberry-banana or mango and raspberry. Smoothie mixtures can also be frozen into creamy ice pops.
Many summer dessert ideas use ice cream or sorbet. Both of these cold treats can easily be made from scratch at home or purchased at a supermarket. Sorbet can be topped with fresh fruit and whipped cream for a light, refreshing dessert. Ice cream is often eaten alone, but it can also be used as a main ingredient in many desserts. Popular ice cream desserts include banana splits, ice cream sandwiches, ice cream floats made with soda, or ice cream sundaes.
Some summer dessert ideas use fresh fruit as the main ingredient. Fruit parfaits made with summer berries and vanilla yogurt are low in calories while still having the sweet taste of a dessert. Peeled bananas can be frozen and then eaten like an ice pop. Many people enjoy dipping the banana in chocolate before freezing.
AS FEATURED ON:
AS FEATURED ON:

By: Anna Kucherova

Peaches are a popular addition to summer desserts.

By: m.u.ozmen

Sherbet is a great ingredient for use in summertime desserts.

By: Natika

Chocolate, which melts nicely, can be served with fruit for a summer dessert.

By: rgbdigital.co.uk

Smoothies made in a kitchen blender are popular summer desserts.

By: Joeyjojojo

Berries make an excellent dessert garnish, and can also be made into parfaits or fruit salads.

By: jamierogers1

Pie is a popular dessert.

By: Tanouchka

Smoothies are a popular summer drink option.