What Are the Different Types of Smoothie Ingredients?
A smoothie is a beverage made by blending a combination of ingredients, most often fruits, vegetables, a liquid and some ice. The result is something akin to a milkshake, except it is intended to be healthier than most shakes and often is consumed as a quick breakfast drink. Additional ingredients, such as protein powder and wheat germ, aren't necessarily about flavor or texture but about the nutritional value of the smoothie.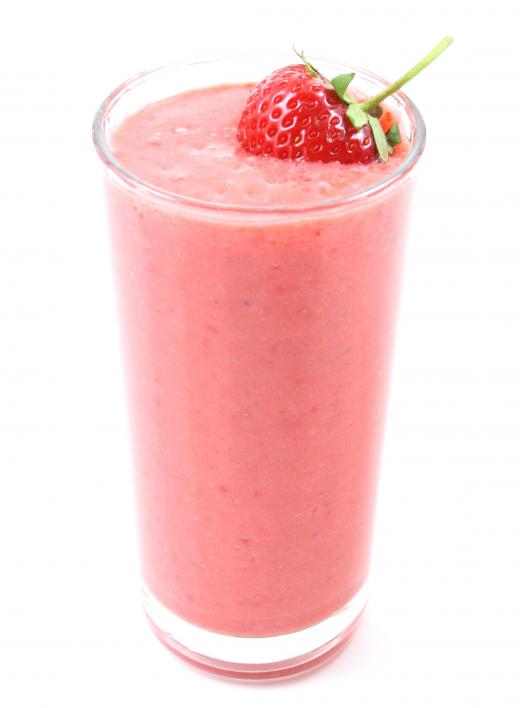 Pulpy fruit that will break down into small pieces in a food processor or blender frequently are used as smoothie ingredients. Common fruit options range from berries, bananas and apricots to tropical fruits such as pineapples and papayas. Watermelons, cantaloupes and other melons with a high water content allow one to use less liquid to create a smoothie. Apples, peaches, plums and pears are fruit options that may require grating the flesh of the fruit before adding it to the blender.
Vegetables are less common smoothie ingredients, but those that contain a high percentage of water are suitable for inclusion in smoothie recipes. Avocados, spinach and tomatoes blend easily with other smoothie ingredients. One also can incorporate bell peppers, carrots and celery into a vegetable smoothie mix by dicing them finely or grating them before adding. One also can use lettuce, radishes and seeded cucumbers.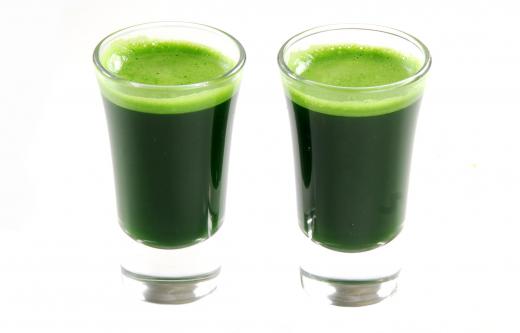 Fruit juice is one of the most common liquids that one uses in a smoothie. Other choices include regular, soy or almond milk and buttermilk, all of which help one create a creamy smoothie consistency. When one prepares a smoothie using vegetables, the flavor profile of the vegetables determines the choice of liquid. Buttermilk and vegetable juices such as carrot, celery or beet tend to complement the flavors of vegetables that one often finds in smoothies.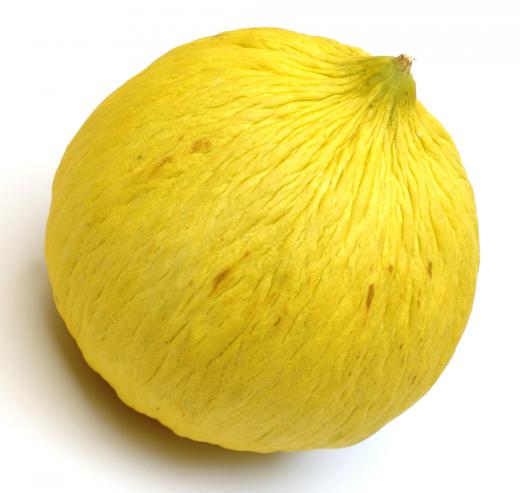 In addition to combining fruits, vegetables and liquids, one can supplement the nutrition of the main ingredients in a variety of ways. Yogurt is a common choice. It increases the protein, vitamin and mineral content of a smoothie, and it also helps to make the beverage creamy. Protein powder, wheat grass powder or juice, and wheat germ are other nutritional enhancements that one can use as smoothie ingredients.
Smoothie mixes, available in retail locations, reduce the total preparation time and allow one to prepare smoothies with a consistent level of desired nutrition. One can select fruit- or vegetable-flavored mixes. In some cases, one prepares a smoothie mix with just water as the liquid, because the powdered smoothie mix already contains juice, milk or yogurt that will be reconstituted by the water.


Lychees can be a great addition to a smoothie.

By: matka_Wariatka

A strawberry smoothie.

By: lculig

Protein powder, which is often included in smoothies.

By: MSPhotographic

Wheatgrass juice is often added to smoothies for a nutritional boost.

By: robert lerich

Melons, like the casaba, have a high water content and are a good addition to smoothies.

By: Richard Villalon

Avocados may be used in smoothies.

By: popoimagen

Blenders are the easiest way to make smoothies.

By: Anyka

Smoothies are created using a variety of fruits, juices, and ice.

By: tashka2000

Spinach can be used to make healthy, green smoothies.

By: alb470

Unsweetened cocoa powder is often used in smoothies.

By: andersphoto

Watery vegetables like celery are often added to vegetable smoothies.

By: monticellllo

A variety of vegetables that contain a high amount of water are appropriate for inclusion in a smoothie.

By: Johan Larson

A green smoothie may feature avocado, kale, or other nutrient-packed green vegetables.