What Are the Different Types of Robotic Systems?
Robots contain a number of different systems that all must work together to accomplish a specific task or a group of tasks. These robotic systems are similar to the various parts of the human body. Each component is unique, but all of the systems are dependent upon each other. The six main areas of a robot are the controller, body, mobility, power, sensors, and tools.
The controller acts as the "brain" of a robot. This is usually a specialized computer that controls the decisions and movements of the robotic device. Different software programs can be loaded into the controller. These programs tell the robot what do under certain circumstances. For instance, a controller might be programmed to drive the robot forward until and obstacle is encountered, and then come to a stop.
All robotic systems must have a body. The body is the structure that holds other important components together. Robotic systems use a variety of base designs, depending on the function of the device. An industrial robot body is often shaped like an arm, while a mobile exploration robot usually has a body that is similar to a car. Some specialized robots have bodies that resemble aircraft or submarines, and allow them to function in unique environments.
The mobility systems of a robot enable the unit to move through its surroundings. Robots that operate on the ground usually have wheels or tracks for this purpose. Aerospace and underwater robots use propellers and rudders or ailerons. The mobility systems of a robot are connected to the controller, and move or stop based on the programming of the robot.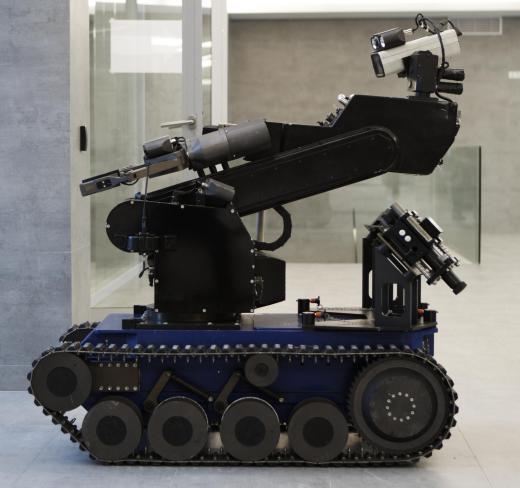 Every robot requires a source of power. Electricity is usually supplied from batteries, and is used to power key robotic systems such as the controller and sensors. Some robots also use hydraulic or pneumatic power. These power sources use compressed fluids to move arms and manipulate heavy objects. Many robots, such as space rovers, are able to recharge their power automatically using solar panels or other types of generators.
Sensors provide a robot with information and feedback about the surrounding environment. Just as the human body uses a variety of senses, robots often employ many different components to gather important data. Distance sensors, for instance, are used to determine the range to nearby objects, while rotation sensors provide a robot with information about how far its wheels have turned. Some advanced robots employ vision sensors, and are able to tell the difference between different shapes and colors.
Tools are the final type of robotic system. These components are used to manipulate objects and perform tasks. The tools depend on the tasks a robot is designed to perform. A manufacturing robot, for example, may be equipped with a welding tool, while a lunar exploration robot might have tools for gathering soil samples. Tools allow a robot to accomplish goals and complete useful work.
AS FEATURED ON:
AS FEATURED ON:

By: computer engineer

Robots working on an automobile assembly line.

By: Daevid

Robotic probes, including Pioneer 10, Pioneer 11, Voyager 1, Voyager 2, and New Horizons, have been used to explore the outer Solar System.

By: chalabala

Military and police robots can be used to defuse bombs or carry automated weapon systems.