What are the Different Types of Quilting Materials?
Quilting is the craft of stitching together layers of materials. Quilting materials, in terms of fabrics alone, are three basic layers: the top, which is usually different pieces stitched together, a layer of fluffy batting, sold in large, rolled sheets, and the bottom, or backing, that is often one piece of textile such as a bed sheet. In the context of other items needed to form bed covers or wall hangings, quilting materials also include pins, thread, cutters, markers, templates, needles, a wood frame and a sewing machine.
A washing machine and dryer as well as an iron and ironing board are also used regularly by quilters. Fabrics used for the quilt top and backing must be pre-washed so they won't shrink when used in projects. Quilting fabrics also need to be pressed before they are stitched together. Hand-quilters use a wood frame, much like an embroidery hoop, to hold the fabric layers together while stitching. Machine-quilters use a sewing machine to stitch fabric pieces together.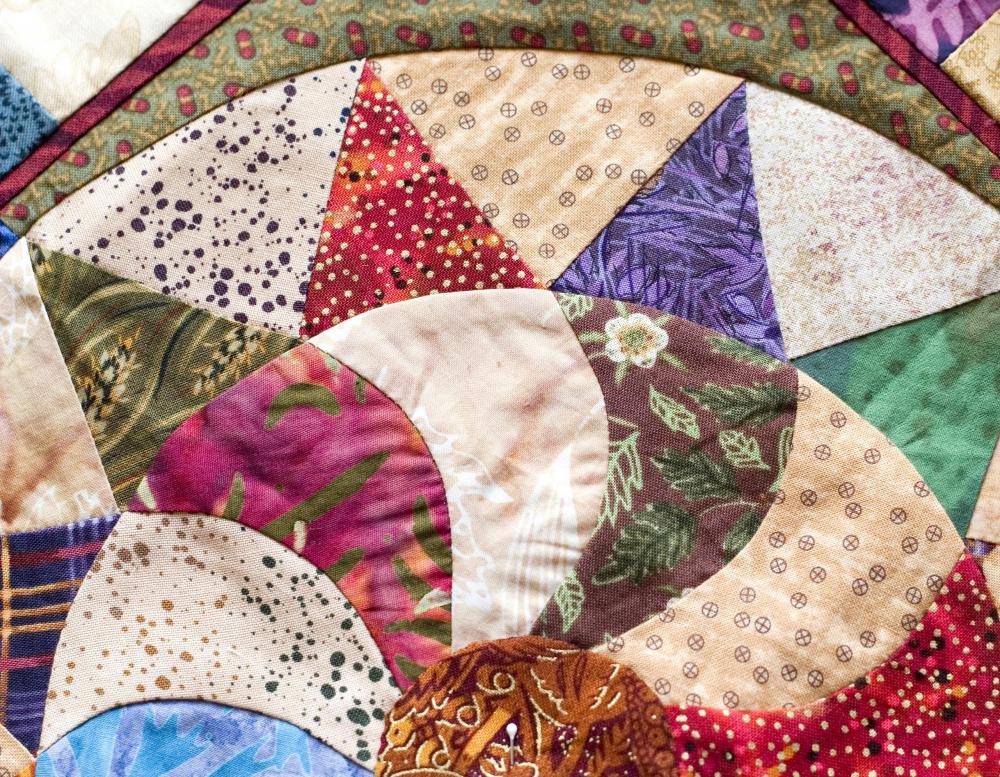 Needles used for machine-quilting taper down to a point, unlike a regular sewing machine needle. There are narrow, bendable quilting needles for machine-stitching lightweight textiles as well as wide, thick types to use on heavy fabrics. Hand-quilting needles are called betweens. They are stronger as well as smaller and wider than the regular types of sewing needle used for stitching by hand. Betweens are designed to create less bunching when sewing several fabric layers together.
Templates are quilting materials that serve as patterns used to create blocks. A quilt block is a square made of pieced-together fabric. Quilting templates are often made of clear acrylic; they are in geometric or other shapes that are used in a quilt block. For example, a quilt block pattern called "pointed star" is likely to be made up of different triangle shapes. Separate clear acrylic triangle templates may be used as patterns.
Templates are held onto the fabric with one hand while the other uses a quilting marker to trace the outline onto the textile. Markers used in quilting are either like a pencil or similar to chalk. The marks allow quilters to have a clear cutting line. The markings wash out as soon as the completed quilt is laundered. Cutters are quilting materials for creating the fabric pieces to use in blocks. The fabric cutter may be hand-held scissors or a rotary tool that cuts many cloth squares at once.
Threads used in quilting are strong and color-fast, which means they hold their color through washings. In quilts in which many different colors of cloth are used, thread that matches the piece's darkest shade is typically chosen. Thread is used to stitch the fabric pieces that form each quilt block as well as to stitch all of the blocks together. Before stitching, the blocks can be held together using straight sewing pins.
Many different colors of cloth may be used in quilts.

Sewing pins can help keep material in place when quilting.

Quilting materials may include an ample supply of needles in various sizes.

Sewing shears, strong thread, a measuring tape, and a seam ripper are tools to have on hand when quilting.