What Are the Different Types of Porch Rockers? (with pictures)
Porch rockers offer a place to take some time out from the hustle and bustle of a hectic day and watch the world go by while sitting on the sidelines, rocking back and forth in one spot without physically going anywhere. Rockers are a common sight on porches in many parts of the world, and the chairs can accommodate the very young, the very old and all ages in between. A variety of materials are used to construct porch rockers, including wicker, cedar and aluminum. While some rockers are mass-produced, many others are handcrafted one at a time, often using locally-found materials.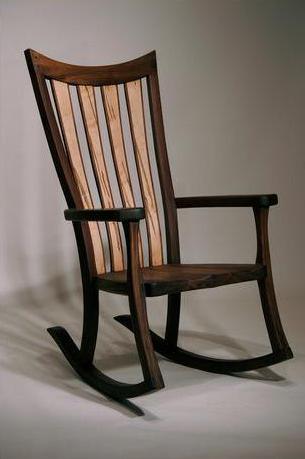 Materials used to make different styles of porch rockers are varied, with crafts workers and artisans often using local, natural materials to create rockers, such as vines, twigs and wood. Even materials for a rocker's seat, such as woven hickory bark, can often be found locally by clever artists. In contrast to natural materials, recycled materials, including milk, water and juice containers, are used to create a lumber material used to make rockers. The colored lumber is resistant to rotting, chipping and discoloring.
While some rockers are crafted entirely from wood, many hand-made and vintage porch rockers are crafted with woven seats, including wicker and twill. Cedar logs are often used to make rustic rocking chairs due to the insect- and weather-resistant qualities of the wood. Some poly composite and metal materials used to make rockers create chairs which are practically maintenance-free, other than an occasional cleaning. Many versions of porch rockers are made using a hand-braided, outdoor wicker over an aluminum frame.
Some types of wicker rockers are designed primarily for the comfort of the rocker. With high backs for neck support and roomy seat areas, the rockers feature cushions on their seats and backs, and can be stuffed with throw pillows for even more cushion and comfort. Assorted deluxe rocker models even have a built-in drink holder and magazine rack. Porch rockers are often available in a wide assortment of colors, including white, green and blue.
Not all rockers are sized exactly the same. Certain porch rockers are made over-sized to accommodate a greater weight capacity or simply offer more room. Double and triple porch rockers that can accommodate two and three people are also offered. Small and medium-sized rockers are available for children so they, too, can enjoy the pleasures of rocking on the porch with the rest of the family.
Durability is key when choosing furniture, particularly for use in hot, moist environments.

Woods such as cedar or teak tend are recommended for outdoor rocking chairs.