What Are the Different Types of LED Home Theater Projectors?
Light-emitting diode, or LED home theater projectors, cast everything from home movies to business presentations in more portable, durable packages than traditional incandescent projectors. Commonly designed to accommodate digital audio and video signal processing, they project visual data and movies from a wide assortment of contemporary digital devices. Projectors may transmit media from computers and digital video disc (DVD) players to gaming consoles and smartphones. Often desktop units housing projection lenses and assortments of input ports, projectors differ according to their data rates, screen sizes, illumination, frame rates, and automatic capabilities. Some are designed for portability, giving up some features in exchange for a more compact package.
Using a more efficient, cooler burning technology than traditional bulbs, light-emitting diodes are electronic illumination circuits. This technology replaces incandescent bulbs with desirable features such as longer life, less heat, and greater resistance to impacts. Relying upon the electronic emission of photons, which are essentially excited electrons, LED diodes offer a degree of customization that may vary in performance between different products. Used with any number of network components, these projectors can be configured to project data from television broadcasts, computer files, or streaming from the Internet.
Projectors may vary depending upon numerous characteristics; one good way to evaluate LED home theater projectors may be in understanding differences in illumination. The lifespan of these light sources can run for decades, even with continuous use. This typically raises upfront costs, which can be offset, however, over the extended lifespan of the unit. Costs also depend on how many diodes and computer chips that units employ. Components may match more familiar specifications of video camera technologies, with characteristics such as resolution and frames per second; generally, the higher these numbers, the greater quality of the final image.
Typically desktop equipment, these LED home theater projectors often sport stylish designs. They may add a chic component to any design-conscious home theater system. Others may stand upright, and some are designed for carrying and to be handheld or mounted on tripods for presentations on the go. While typically arrayed with ports for audio, video, and infrared remote control sensing, they may also feature common standard digital video ports. With the advent of high-definition digital processing, LED home theater projectors may also offer high definition multimedia interface (HDMI) ports.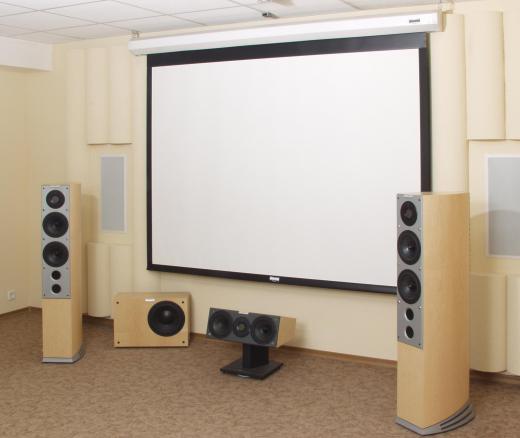 Additional uses for LED home theater projectors can include colorful, animated presentations for education and business. Often compatible with standard audio and video formats, these devices project images at characteristic sizes, angles, and resolutions. They may also be described by their brightness, contrast, and aspect ratios — that is, whether images are square like television screens or rectangular like cinema screens.
Products may be packaged with accessories to aid in control of presentation. These may include adapters, cables, and touchpad control interfaces. Others may include antennas that attach via universal serial bus (USB), as well as computer software. Like their traditional counterparts, no projector would be complete without its trusty protecting lens cap. Unlike older models, these projectors take full advantage of digital techniques to capture better images and captivate audiences.
AS FEATURED ON:
AS FEATURED ON:

A HDMI® cable.

By: Serjik Ahkhundov

Some LED home theater projectors are designed to work well with a number of gaming systems.

By: ludmilafoto

A good way to judge different LED home theater projectors is in the illumination they offer.