What are the Different Types of Knitting Yarn?
Yarn is a continuous strand made up of fibers or filaments, used for making fabric or textiles of various kinds. The distinct types of knitting yarn are categorized by their weight, purpose, ply, source fiber(s), texture, color, and pattern. In addition, knitters choosing yarn will want to match yardage and gauge.
Weight, Purpose, Ply. Although knitting yarn weights have been standardized by the Craft Yarn Council of America (CYCOA), there are a number of different systems actually in use in the English-speaking world, making it important to make sure know the system so you can match yarns to directions accurately. The following chart is not complete: it does not, for example, include the Australian and New Zealand terminology of naming yarn weights by "ply" or the British system which substitutes chunky for bulky and aran or triple for worsted. Notice that some of the systems mix weight and purpose in their categories. Also, in the following chart, dk is used as it characteristically is in knitting, to stand for "double knit."
CYCOA
super
fine
fine
light
medium
bulky
super
bulky
Other 1
fingering
sportweight
light
worsted
worsted
bulky
superbulky
Other 2
sock
yarn
fingering/baby
sport/dk
worsted
bulky
super-bulky
Other 3
lace
--
light
medium
bulky
--
Other 4
accent/
novelty
fingering
sport
worsted
bulky
--
Fiber. Knitting yarn may be made of natural or synthetic fiber. Animal fiber is a popular source for yarn, and the types used include sheep, alpaca, angora, camel, cashmere, and qiviut - the arctic musk ox. Silk is also popular. Vegetable fibers include cotton, linen, hemp, and ramie. Rayon and acetate are manmade, but use plant fiber.
New yarn types are still being invented. 100% bamboo fiber yarn was developed in 2002. Soybean protein viscose fiber filament yarn is also available. Synthetic knitting yarn is made from coal or petroleum products. Types of synthetic knitting yarn include acrylic, nylon, polyester, spandex, and polypropylene.
Knitting yarn is also available in blends that combine fibers. Metallics – filaments of metal from a variety of sources, are often combined with other fibers in novelty yarns. Railroad track ribbon, glitter, metallized polyester, paillettes, sequins, and lurex are also combined with natural and synthetic fibers to create both color and sparkling effects.
Texture. Knitting yarns have been developed to provide a wide range of textures beyond the ply. Bouclé or loop yarn, chenille, double-knit, slubbed, nubbed, rayon chainette - a.k.a. tassel yarn, tassel chainette, or fringe yarn - ribbon yarn, felted ribbon yarn, ladder and rung, eyelash or fun fur, and ratiné are some of the varied and interesting types that have been developed.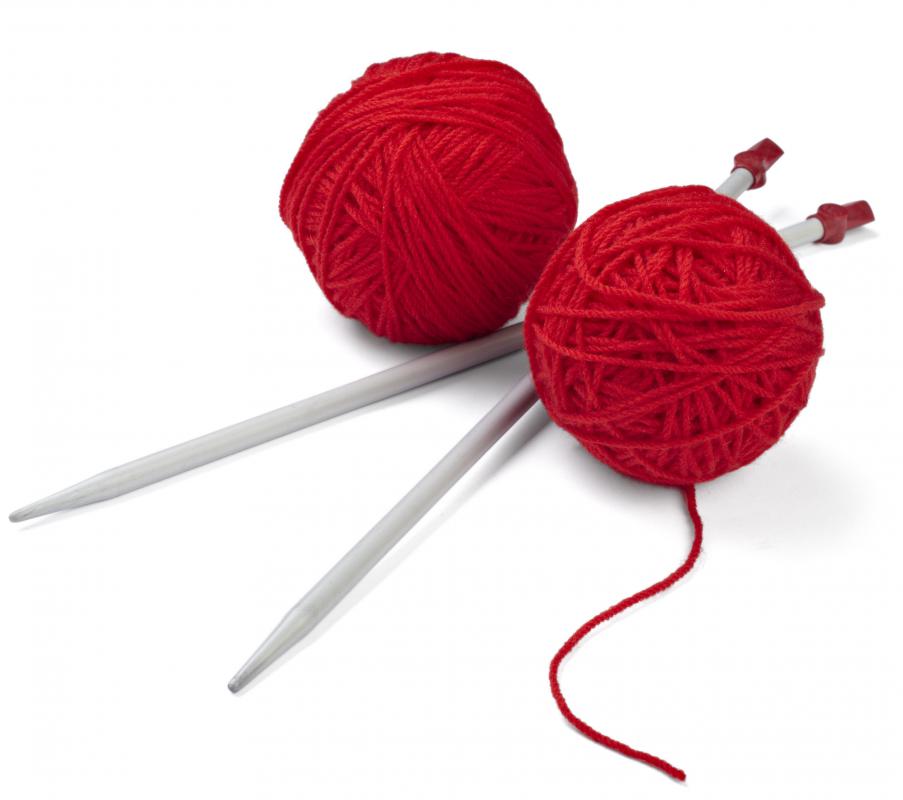 Color and Pattern. Knitting yarn is available undyed or may be dyed by the manufacturer or the user. An extensive array of colors is available, including single color and multi-color skeins. Single colors may be uniform, or they may be heathered or space-dyed. Hand painted, self-patterning - for example, jacquard, fair isle, or chevron - and self-striping yarn are some of the newer innovations in knitting yarn.
Yarn.

A skein of worsted weight yarn.

A zip-up knitted sweater.

A sweater made with angora yarn.

Knitting needles and yarn.

A higher ply yarn will show more definition in a cable knit pattern.

Sport weight yarn is considered ideal for making children's clothes.

Eyelash yarn is generally used for trims and small clothing items like scarves.

Knitters choose yarn to match the gauge, or stitches per inch, of a project.

When selecting knitting wool, make sure that the color and texture suits the knitting project.

Yarn comes in many colors, types, and thicknesses.

Some types of yarn are more water resistant and are ideal for making gloves.