What Are the Different Types of Home Office Supplies?
Home office supplies are classified into four main categories, generally based on their function in the home office environment: furniture, office supplies, technology products, and mailing and shipping products. Furniture includes the typical desk and chair as well as the file cabinet, lighting and other such accompaniments. Office supplies common in the home office are writing implements, paper and other necessary items, such as desk organizers, calendars and paper shredders. Home office technology needs differ greatly from the corporate office, as the home supplies are usually smaller and decorative. Finally, the home office has mailing and shipping supplies for business correspondence and bill payments.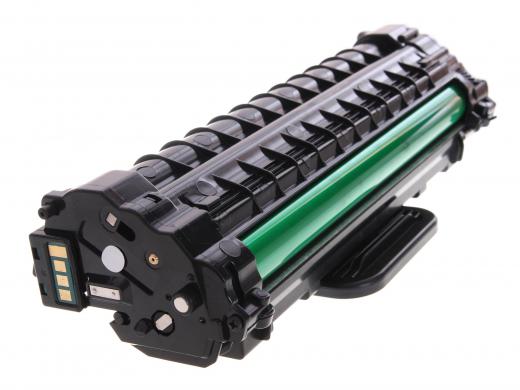 The workspace at home differs from the corporate office environment. Home office furnishings are usually more decorative, as they tend to blend in with the rest of the living quarters. They also tend to be smaller or more compact since the home office is usually a small corner or room in a part of the house. Bookshelves and desks are therefore more furniture-like, and chairs tend to resemble cushioned living room furniture.
Manufacturers and office designers have created entire office suites and home office supplies around home office design, offering an array of attractive and compact devices for every style and need. Utilitarian metal file cabinets, common in the corporate office environment, are replaced by smaller, more pleasant cabinets made of wood or wicker. Matching furniture sets come in a variety of sizes, colors and styles to encourage a homelike feel and look less obtrusive when placed in a living room or den.
Since most home business environments are small, home office organization is important. A variety of fancy desk organizers neatly store collections of pens, pencils, paper clips, sticky notes and other accessories. Home business owners may take advantage of green home office supplies, such as recycled printer paper and remanufactured printer cartridges, saving both money and the environment.
Technology products in the home office are generally more compact and offer more advanced features than the business environment. Rather than a separate printer and copier, the home business person usually opts for a combination printer, copier and scanner, saving space and money. The home office computer may sport a larger monitor. A powerful wireless router provides Internet access for both home business and family networking activities. Home technology products are also usually less industrial and utilitarian-looking, reflecting more attractive designs to blend in with the home office decor.
As with the other home office supplies, mailing and shipping supplies tend to be fewer and smaller. Large corporate businesses may have a large space set aside for packaging and shipping products as well as postal scales. These products are impractical in a home office environment where storage space may be difficult to find. Instead, a home office may contain a single box of mailing envelopes, and the business person may travel to the local post office to weigh and mail packages and correspondence.


A wireless router is important for a home office.

Laser printer cartridge.

By: Maksym Dykha

A printer.

By: Jakub Krechowicz

Paperclips are common home office supplies.

By: Sashkin

Filing cabinets are essential pieces of furniture in any home office environment.

By: Iriana Shiyan

Home office supplies may include a desk.

By: trekandshoot

A paper shredder.

By: serkucher

Pens, notebooks and calculators are among the supplies every home office should have.

By: daniaphoto

Calendars can help people working from home keep track of appointments.

By: bahrialtay

Copy paper is an important supply used in a home office.

By: jojje11

Pushpins may help with organization in a home office.

By: S_E

Home office supplies may include tape.

By: fusolino

Vendors may offer a multitude of office supplies creating a one-stop shopping experience.

By: Halfpoint

A desk clock can help people working from a home office stay on schedule.

By: ILYA AKINSHIN

Noise canceling headphones can help minimize distractions while working from home.

By: Andrey Bandurenko

Home offices often include a bookshelf for organization.