What Are the Different Types of Gluten-Free Appetizers?
Gluten-free appetizers are any appetizers that do not contain gluten, the protein in wheat, barley, and spelt that people with celiac disease cannot tolerate. Some gluten-free appetizers are naturally gluten-free, like those with no wheat ingredients. Some examples are mini-egg frittatas made with bacon bits, cheese, and minced vegetables. Other traditional appetizers, like cheese and wheat crackers, can be made with gluten-free alternatives like gluten-free crackers made with rice flour. Those with gluten intolerance or celiac disease need to be careful, because gluten can be hiding in many recipes that do not appear to contain obvious gluten-containing ingredients like wheat.
Some of the simplest gluten-free appetizers to assemble would be a fruit and cheese plate. A cream cheese–based fruit dip can be served with fruit for a little more sweetness. Just be cautious about buying fruit dip in the grocery store to be certain it does not contain wheat-based ingredients. A caramel-based fruit dip should not be served if it was bought in the grocery store because caramel color may be wheat-based and contain gluten. Homemade caramel is naturally gluten free and should be fine.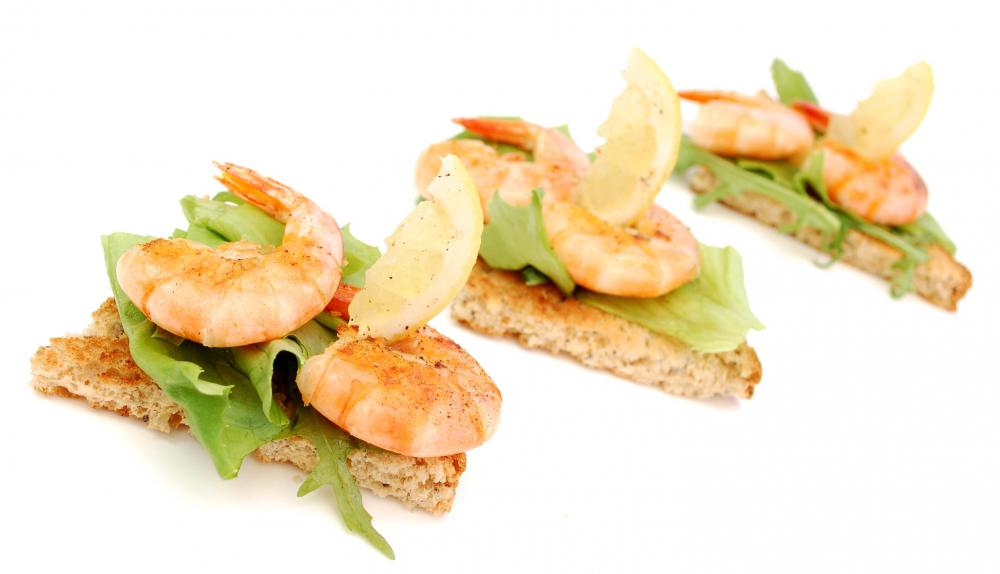 Other naturally gluten-free appetizers, like the above-mentioned mini-egg frittatas, are well tolerated by celiacs. Some other naturally gluten-free appetizers are shrimp with cocktail sauce made from ketchup and horseradish, tortilla chips with fresh tomato salsa and guacamole, or vegetable sticks with hummus. Just be sure to check all ingredients of packaged food to make sure no gluten is present in the ingredient list.
Another excellent gluten-free appetizer are asparagus spears wrapped in prosciutto and warmed in the oven. Buffalo chicken wings made with gluten-free ingredients make for a spicy appetizer, provided the hot sauce used in the recipe is checked for hidden gluten ingredients. Roll-ups can be made by spreading romaine lettuce leaves with cream cheese, placing a slice of turkey on the cream cheese, and rolling up the lettuce. The roll-ups can be sliced and secured with a toothpick.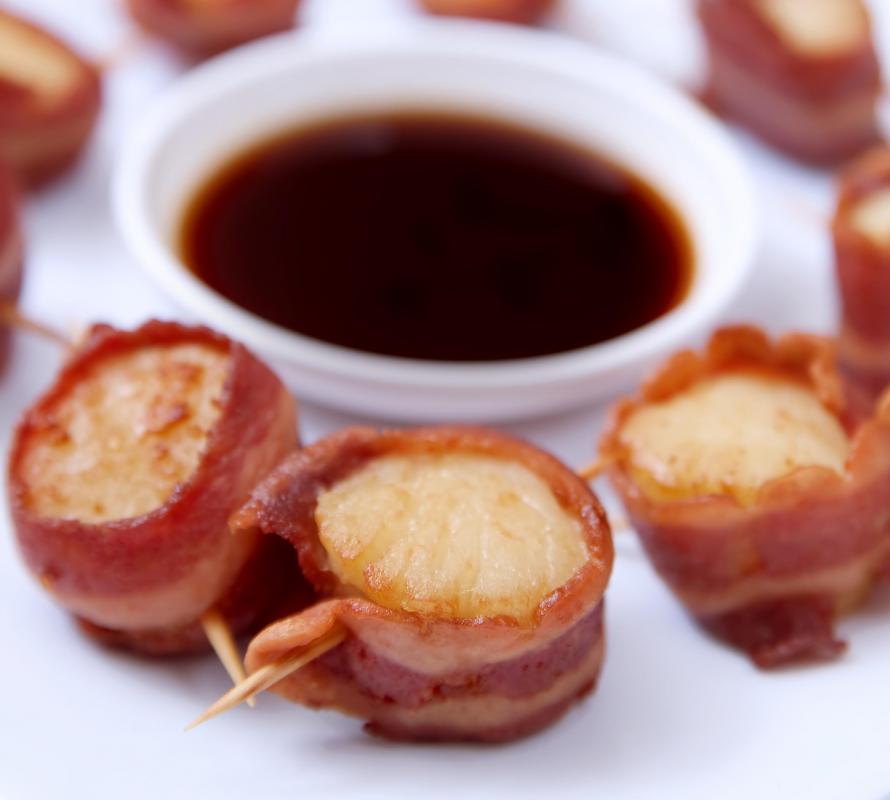 Some appetizer dips and cheeses that are usually served with bread can be served with gluten-free alternatives. Brie can be served with toasted gluten-free baguette slices. Gluten-free bread or crackers can be found in many grocery stores and can be served with any number of dips and spreads.
There are some ingredients to avoid when making gluten-free appetizers because they can be manufactured from wheat. Anyone avoiding gluten should be wary of Worcestershire sauce and barbecue sauce for the gluten-containing caramel coloring or wheat ingredients they might contain. Soy sauce should be avoided unless it is certified gluten-free because it is made from wheat.
If gluten-containing appetizers are made in the same kitchen and with the same utensils as gluten-free appetizers, there is a risk of cross-contamination. All food preparation areas and utensils should be cleaned thoroughly to avoid this risk. Even some spices and teas have hidden wheat ingredients, so all processed food should be certified gluten-free just to be safe.
Hummus served with raw vegetables can make a great gluten-free appetizer.

Sliced prosciutto is gluten free.

Gluten-free shrimp canapés on flatbread.

Guacamole is a gluten-free food that can be used an an appetizer.

Broiled, bacon-wrapped scallops.

Gluten-free bread with a dip or spread can make for a gluten-free appetizer.

For a gluten-free appetizer, choose a robust salsa to serve with crisp, homemade tortilla chips.

Chickens wings are a popular gluten-free appetizer.

Shrimp cocktails are usually gluten-free.