Asparagus is a vegetable that has been in cultivation for millennia. The Greeks and Romans ate and enjoyed it, and the vegetable has also been immortalized in the hieroglyphs of ancient Egypt. The portion that is eaten is the immature shoot, which is often referred to as a "spear" due to its shape.
Counterintuitively, thin young asparagus spears are often tougher than larger, plumper ones. Shoppers should select spears that are well filled-out; if the skin is wrinkled or concave, the vegetable has been on display too long and is beginning to dry out. White asparagus is actually the same as any other type, but it has been shielded from sunlight.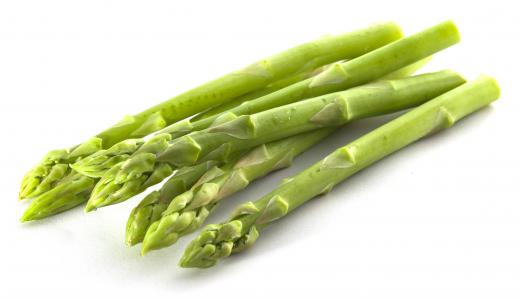 Limp, soggy canned asparagus bears little resemblance to the fresh vegetable, and most people who enjoy asparagus avoid it. The vegetable should be cooked quickly, just long enough to be easily pierced with a fork. Some people bundle the spears into sheaves and cook them standing in a tall pot, with the tougher ends in the boiling water and the tender heads being steamed. Special steamers are also available just for this purpose.
When preparing asparagus, cooks should snap off the tough ends by hand, rather than using a knife. Doing this by hand allow the cook to feel where to break the spear — the stalk will break naturally where it becomes too tough to be edible. The vegetable is naturally quite low in calories, but is often served with rich calorie-dense sauces such as Hollandaise and butter sauces. If the spears are destined to be eaten as a finger food with dip, they should be cooked more briefly than they would be when served as a dinner side dish.
Asparagus is a good source of dietary potassium and folic acid, and it acts medicinally as a diuretic. In some people, it also has the peculiar property of giving the urine a distinctive odor. Even odder, not everyone can detect the odor, and those whose urine smells aren't necessarily those who can detect the odor, and vice versa. Both traits appear to be genetically determined, however.
AS FEATURED ON:
AS FEATURED ON:

By: marrfa

Raw asparagus.

By: evgenyb

Asparagus is a spring vegetable high in potassium and folic acid.

By: roblan

Asparagus is typically cooked by being boiled or steamed.

By: pankajstock123

The diuretic properties of asparagus may be helpful for people with liver disease.