What Are the Different Types of Gambling Advertising?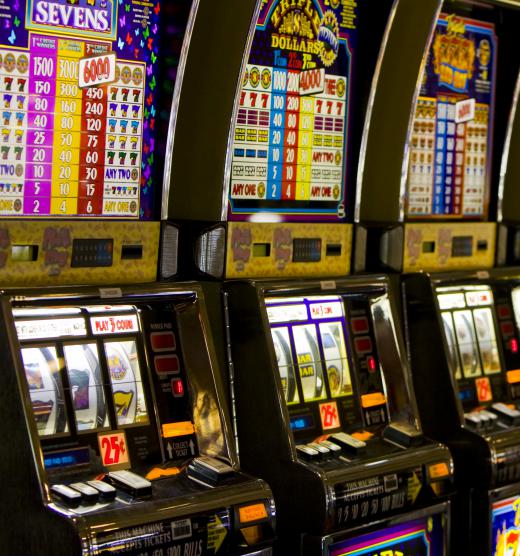 There are many different types of gambling advertising methods that are common in the modern advertising market. Radio and television ads, billboards, and sponsorships are all popular ways to advertise a gambling operation. Some gambling advertising stresses other activities available at a casino or gambling establishment, while still serving as a draw to the casino itself. In some regions, gambling advertising is carefully regulated; not all forms of advertising may be legal in all areas.
Radio and television ads are a popular venue for gambling advertising. Television ads allow potential customers to get a look inside the casino, and generally show customers having a great time and winning lots of money. Radio ads are frequently used for casinos near major roadways, and often include information about current specials or events. Some gambling ads on radio and television may not even promote a specific gambling venue, but a town or resort area, such as Las Vegas or Atlantic City, known for gambling.
Gambling advertising in the form of billboards is another popular way to get the word out about a gambling establishment. These may advertise specific casinos or gambling resorts, and are often posted alongside roadways near a legal gambling area. Billboards may also be effective as travel ads, encouraging viewers to take a trip to a nearby gambling destination. Like television ads, these gambling advertisements are often colorful and flashy, and frequently show extremely happy people who appear to have just hit the big time.
Sponsorships are a more passive form of gambling advertising that help build name recognition with potential consumers. Casinos often sponsor televised or live sporting events, concerts, and other large entertainment events, in hopes of drawing an entertainment-minded crowd. While the event might not include overt advertising for gambling, the name of the sponsor is usually clearly displayed or announced by event announcers.
Some casinos find it advantageous to use gambling advertising that markets the casino without necessarily mentioning the gambling. These advertisements may stress the great hotel rooms, fabulous restaurants, snazzy nightclubs, and spectacular pool area instead of the actual casino. Advertising resort features instead of gambling can help casino marketers skirt regulations on gaming advertisements in some cases, since the actual illegal or disapproved activity is not being advertised. Nevertheless, gambling establishment owners must be very diligent in compliance efforts in order to avoid fines or even the potential for a shut-down for breaking the law.


By: Mariusz Blach

Slot machines are often advertised in TV spots.

By: Elnur

Casinos utilize many forms of gambling advertising.

By: MaryPerry

Casinos may advertise odds offered on table games.