What Are the Different Types of Electronic Sensor?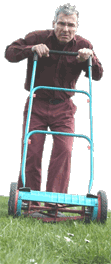 An electronic sensor can be designed to measure one of many variables. Types of electronic sensors include force sensors, light detectors, tilt sensors, and passive infrared (PIR) sensors. The many varieties of these sensors operate on the principle of making measurements based on changes in an electrical signal. This signal is then relayed either by wire or wirelessly to an indicator or equipment programmed to respond to changes in the measurement. Heaters and automated lighting systems are a couple of things that make use of electronic sensors, and different sensor elements can also be integrated into devices like microphones, video cameras, and photocells.
A force sensitive resistor is a sensor that can tell how much force is being applied, such as when a finger touches a button. It is also used in electronic pianos, enabling the instruments to react like a traditional piano would when someone uses a certain pressure to hit the keys. More widely used are PIR sensors which detect variations in infrared (IR) energy to sense changes in the environment. The IR signature of a wall can be told apart from that of a person quickly walking past a beam of emitted IR light. Limitations of this kind of electronic sensor include the inability to measure stationary objects or detect anything behind glass.
Tilt sensors are another type of electronic sensor. These sensors can tell the angle at which a surface is oriented and are commonly used in airplanes and cars, as well as instruments used for surveying. Variations of tilt sensors are electrolytic types that include a conductive fluid, magnetic devices, and capacitive sensors in which the signal changes as a component moves between two electrically conductive plates. Tilt can be detected by sensors that measure in one direction, and ones that detect tilt on two axes.
Changes in light intensity can also be measured by an electronic sensor. These variations in light can be used for devices such as touch keypads, which work like computer keyboards but operate based on changes in voltage when a finger blocks the light on the key. Photocell sensors can also be used in musical instruments, and even control specific functions such as volume, pitch, and even tempo. The electronic sensor types are so varied that one or more can be found in almost any electronic device, and the electrical output allows for connection to any kind of electronic component.
Man mowing the grass