What are the Different Types of College Jobs?
There are many different types of college jobs available for those interested in working at a college or university. Some of the most common jobs on a college campus are those for professors, which often involve teaching classes, sitting on various college boards, and performing research and writing papers. There are also jobs that include various support functions, such as the staff that operate admissions, financial aid, and registration as well as individuals involved in campus cleaning and repair. Other college jobs are often used as employment opportunities for students at the school, such as work in bookstores, libraries, and similar environments.
College jobs are employment opportunities that exist on a college campus or university. One of the most competitive and common college jobs is a position as a teacher or similar faculty member. This usually begins with a professor who is hired by a college or university to teach classes, and can include different levels of professorship and advancement on various academic boards within a department. A college professor will typically work toward becoming a dean for a department or a particular school, and retaining a professorship can require extensive research and work outside of teaching to publish papers and continue various scholarly endeavors.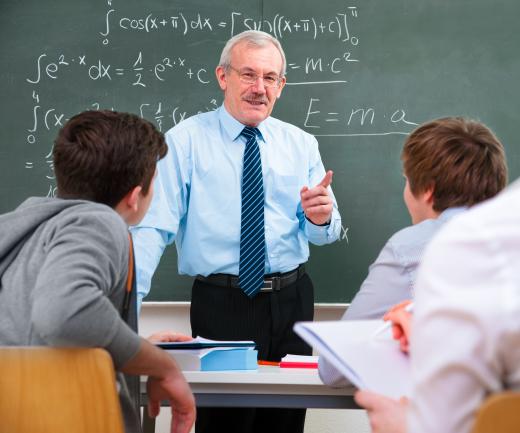 There are also a number of college jobs that involve staff members who are not teachers and who are often involved in school operations or maintaining a college campus. The staff members who work in admissions, registration, and financial aid do not usually have a background in education or teaching, but instead work in a more administrative capacity. This can also include a number of individuals who do not work directly with students, but file paperwork or are employed in data entry. There are also college jobs for individuals in sanitation and maintenance, which usually involve cleaning campuses and classrooms and performing maintenance such as replacing light bulbs, repairing desks and chairs, and providing computer technical support.
Some college jobs are often reserved for students who may be looking for part-time work on a college campus. These jobs are often referred to as "work study" positions and allow students to find work that will provide them with a work schedule that still allows them to attend classes. These positions can include administrative assistants in different departments, workers in the library and bookstore, and assistants in science labs and greenhouses. There are also college jobs reserved for graduate students such as teaching assistants and research assistants.
AS FEATURED ON:
AS FEATURED ON:

By: Alexander Raths

Colleges hire both tenure track and visiting professors.

By: ele

College have staff who work in retail settings, such as the campus bookstore.

By: Andres Rodriguez

Different college department will host event lectures to give students additional resources.

By: markos86

Graduate assistants often teach classes or oversee students working in the lab.

By: .shock

Student lab assistants are often tasked with keeping inventory and ordering supplies.