What Are the Different Fashion Designer Qualifications?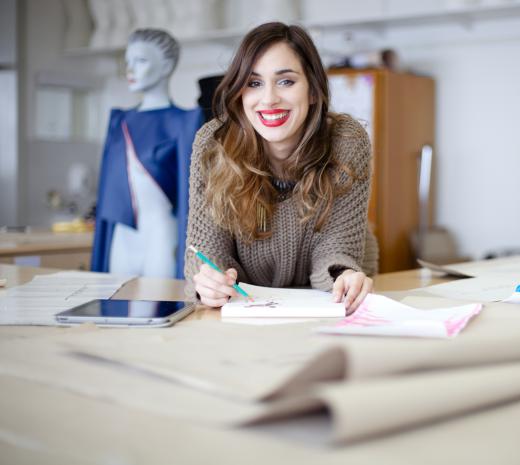 As in any profession, there are certain types of skills and qualities needed to work in the fashion industry. Fashion designer qualifications in terms of skill sets include creativity, having a good sense of fashion, and being a capable designer. Other qualifications can include completing a formal education program and obtaining work experience.
Of all the fashion designer qualifications needed, creativity is an imperative trait. Not only must a fashion designer have an artistic flair, but he must also be able to translate that into a design. A common goal of fashion designers is to produce a design that people will want to purchase, thus creating a fashion trend.
A fashion designer also must have impeccable taste in terms of fashion. He should be knowledgeable about past and current trends, and be able to visualize and conceptualize what will be popular in the future. He should also understand what colors mix and blend well, and be able to choose an appropriate pattern and fabric to complement the color choices. His sense of fashion should also include knowledge regarding what accessories complete an outfit.
Other important fashion designer qualifications include the ability to design clothes as well as measure the fabric, cut pieces out accurately and sew them together in the correct sequence. A fashion designer must be able to draw his ideas out on paper or use a computer software program to map out his plan. He should also have a solid foundation of dressmaking and tailoring to work in fashion.
Although some fashion designers never complete a formal education, it generally is wise to complete a two- or four-year training program, particularly because it can help an aspiring fashion designer to land a job. A fashion designer can pursue a specific fashion designing degree, an associate's degree or a Bachelor of Fine Arts degree. Typically, a fashion designer also can incorporate merchandising, marketing or business classes — or earn a second degree in one of these areas — to help pave a pathway to beginning a business. Typical coursework for a fashion designer includes sewing, textiles, fashion history, color, computer-aided design (CAD) and styles of clothing.
Work experience is one of the most important fashion designer qualifications. Not only should a fashion designer have good, verifiable references, but an apprenticeship or an internship can help to prove credibility and skill. When working as an apprentice, a fashion designer should exhibit a strong work ethic and flexibility. Completing smaller, non-fashion designing tasks shows the company that the designer has the drive and dedication to succeed and might even lead to a job offer after the internship is completed.


By: berc

Fashion designers must be creative.

By: Andrey Kiselev

An impeccable taste in fashion is a very important quality of a fashion designer.

By: illustrart

A fashion designer must have an artistic flair.

By: PhotoSG

Fashion designers create new clothing and styles.

By: Peter Atkins

Fashion designers may work with private clients to create individual looks.