What are the Different Drafter Jobs?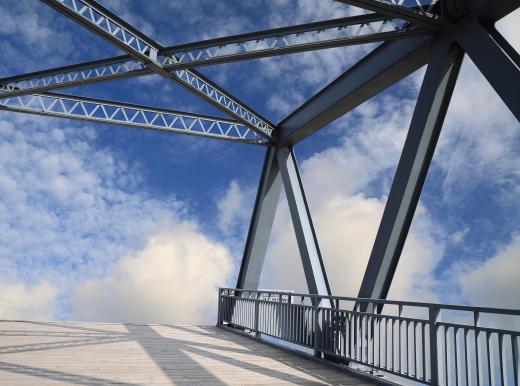 There are drafter jobs available in any industry that needs skilled artists to make illustrations and diagrams that communicate the visual detail and technical specifics of design ideas. Drafters may work in such fields as aerospace, drawing aircraft and spacecraft. Some may work in architectural firms, drawing plans and blueprints according to builder specifications. Mechanical drafters often use their expertise to make drawings of electrical systems and wiring diagrams for machines and buildings. A civil drafter may map out topographical land features and create drawings for civil engineering projects.
A drafter makes use of mathematical knowledge, engineering principles, and artistic ability to create drawings, usually using a computer program such as computer-aided drafting and design (CADD). Most drafters work in the architectural drafting field, creating drawings used in the construction or remodeling of residential or commercial buildings.
Aerospace drafter jobs require drawing everything from small, individual mechanical components used in aircraft to entire aircraft systems, control surfaces, and airframe structures. An aerospace drafter is required to communicate well with engineers and have a thorough understanding of aeronautical, electrical, and mechanical engineering concepts. Some work in the government on military aircraft and require security clearance.
Civil drafters may create topographical maps and drawings of survey and other public information. This information may be used in construction of roads, bridges, railroads, buildings, flood control projects, and pipelines. Drafting jobs in the civil engineering field may require knowledge of obtaining public information, surveying skills, and sometimes field work, in addition to drafting skills.
Electronics and mechanical drafter jobs require knowledge of wiring, machinery, and manufacturing processes in factories and power plants. These designs are used to install, troubleshoot, and repair systems, equipment, and machinery. Electrical and mechanical drafters may work in a variety of industries that frequently overlap with the other drafting specialties. These include architectural and engineering firms, ship and boat building, controls manufacturing, pipeline transportation, and aerospace.
Educational requirements for drafter jobs vary, but typically require either a technical training program or two-year-degree program. A few require a four-year degree. The drafting field lends itself well to online distance education and this is becoming a common way to earn basic requirements to obtain the first job.
Drafter jobs in general may be expected to grow more slowly than other fields due to the use of computer aided drafting programs instead of manual drawings. Computers allow drafters to handle heavier workloads than they might if doing all drawings and calculations by hand. Some drafting fields, such as architectural and civil, tend to grow in response to regional trends on construction and the state of local economies.


By: Aania

The information gathered by civil drafters may be used in the construction of bridges.

By: Marzky Ragsac Jr.

Some drafters specialize in drafts made using computer aided drafting software.

By: jurra8

A drafter should know how to use a plotter, the special large-format printers used to print blueprints, schematics and reference designs.

By: Chad McDermott

Thanks to CAD technology, a drafter can now do his job more quickly, producing more designs than in previous years.