What are the Different Curriculum Vitae Formats?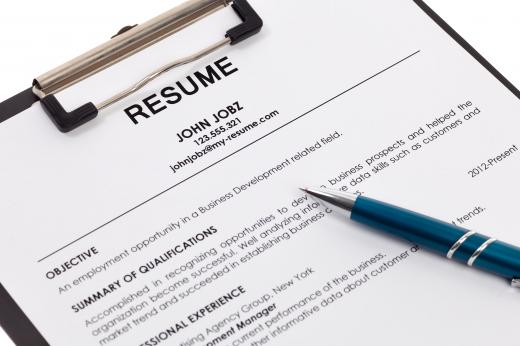 There are a quite a few different curriculum vitae formats to choose from. Some of the most common are the chronological format, the performance format, the functional format, and the targeted format. These formats are a good choice when an individual want to showcase their skills and experience in a certain way. Alternative formats and universal formats are good choices in creative fields or when someone may be unsure of which format to use.
One of the most common curriculum vitae formats is the chronological format. A chronological curriculum vitae lists the applicant's experience, skills, education, and work history in a chronological order. This can be a good choice for individuals who have a long work history or a lot of experience but may not be the best choice for someone who has just graduated. When using a chronological format it is recommended to list information starting with the most recent position and qualifications.
The performance format is very similar to the chronological format, and the only real difference is that this is one of the curriculum vitae formats that allow the writer to showcase his or her work performance and any special accomplishments. This could be a good choice for individuals who have performed very well in their chosen fields. Information on the companies worked for and contacts can be included as well.
Using the functional format is recommended for individuals who need to highlight their skills. This is one of the curriculum vitae formats that focus more on the career functions and what was expected in previous positions. The format is sometimes used when someone wants to enter a new field, but still wants to prove his or her efficiency and work experience in a way that does not focus on a specific industry.
The targeted format is most often used when someone applies for a specific position. When using this format, the writer lists only the skills, experience, and educational information that are relevant to the position he or she is applying for. This helps "target" the curriculum vitae and makes it easy for a potential employer to see if the applicant is a good match, without having to search through irrelevant information.
Alternative curriculum vitae formats offer an applicant the chance to focus more on him or herself. It can add a sense of flamboyancy and personality to an application. This format is most often used when applying for creative positions and helps the applicant to showcase his or her personality rather than accomplishments.
The universal format is probably the most flexible of all curriculum vitae formats since it can include aspects of all other formats. When using this format, an applicant can include elements from any other curriculum vitae format, without having to limit him or herself. Experts generally recommend using this format when an applicant is unsure of which information to include, or which format to use. This is also why it is often chosen by people who write their own curriculum vitae.


By: phasinphoto

A curriculum vitae lists a person's work history in chronological order and contains elements similar to a resume.