What Are the Common Characteristics of Military Family Life?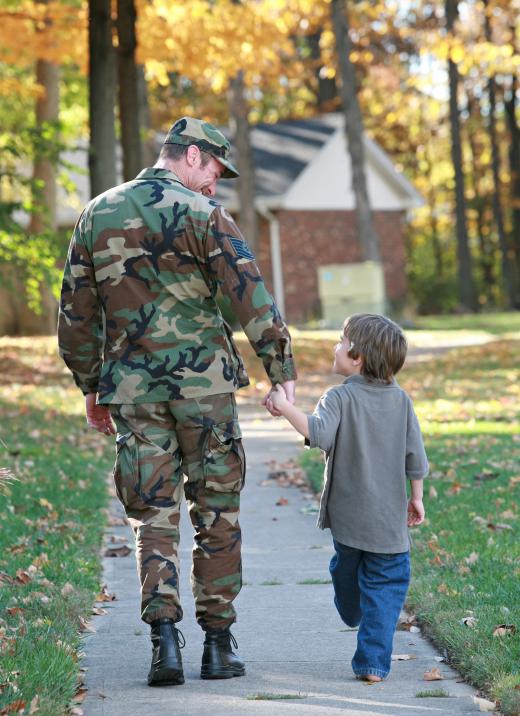 Military family life requires courage, responsibility and patience, as well as having a strong loyalty to the country. Being willing to deal with deployment is an absolute must. Families often uproot their lives to move from one location to another, which has its perks but also takes its toll. The military community is supportive of each other through all the negative and positive aspects. They receive benefits and special military discounts, even after retirement.
A big part of military family life is being willing to deal with deployment. It requires those in the military to fight for their country and be away from home for extended periods of time. The family members left behind are putting their military and country ahead of their own wants and needs; they are often separated from their deployed loved one for several months or years at a time. The separation takes an emotional and financial toll, and can often cause a strain on the relationships between those deployed and those at home.
Many families move from one location to another depending on where the military needs the active duty service member to be based, in some cases moving overseas where they don't know the language and have never visited before. Although this aspect of military family life is difficult, most are determined to make the best of it. They'll try to meet new people and use it as an opportunity to see more of the world.
The military has many support groups and resources that help families with everything from dealing with the loss of a loved one to offering guidance with adjusting to military family life. Other military families are usually friendly and supportive and try to lend a hand when necessary. They try to create an extended family, especially for those who are separated from deployed loved ones or are new to the area.
Due to adhering to an unconventional schedule, military families often have one spouse enlisted and the other as a stay-at-home parent. The single income means many households must be financially responsible and careful with how they spend their money. Active duty military members, retirees, and their families receive health benefits, and upon meeting certain requirements, may also receive benefits for education and housing. By showing their military identification card, active duty military and retirees can typically receive discounts at a variety of places including stores, airlines, movie theaters, tourist attractions and travel agencies.
Military family life may mean enduring a lot of struggles, but the close-knit community tries to ease the hardships as much as possible. Families remain strong out of loyalty for their loved ones and their country. Many are generous and selfless and often put the needs of others before themselves, which is evident in their support for other military families and for their own loved ones who are deployed.


By: sonya etchison

Based upon duty assignments, military families may be required to move frequently.

By: Tatyana Gladskih

Enduring many struggles is part of a military family life.

By: WavebreakMediaMicro

Some military families may view moving as an adventure.

By: Oleksii Nykonchuk

One major aspect of life for military families is the ability to cope with deployments to other locations.