What Are the Best Tips for Making Vegetarian Butternut Squash Soup?
When making vegetarian butternut squash soup, using fresh herbs as well as ground pepper can add a satisfying flavor. Other good tips for preparing this soup include using one main spice or herb and adding it gradually, so as not to overpower the delicately earthy taste of the squash. It's often best to oven roast the squash before adding it to the soup. Other vegetables can be added to the soup such as carrots and/or peas, but chopped apples can make an interesting addition, too. A flavorful vegetable broth is an excellent base for vegetarian butternut squash soup.
To help create a tasty vegetarian broth, minced garlic and finely chopped onions can be sauteed in cooking oil. A variety of vegetables such as potatoes, carrots, mushrooms and celery can make a great broth. Bay leaf, salt and pepper can be used to season the broth used to make vegetarian butternut squash soup.
The squash should be peeled and cut into chunks. Placing the chunks on a greased cookie sheet and baking them at moderate heat in the oven until tender helps prepare the squash for the soup. The oven roasted squash chunks can then be added to the vegetable broth along with any other ingredients such as apples and/or other vegetables. Using a small amount of a spice or herb and simmering the vegetarian butternut squash soup for about 30 minutes before tasting it and adjusting the flavors usually works well to avoid either over or under seasoning it.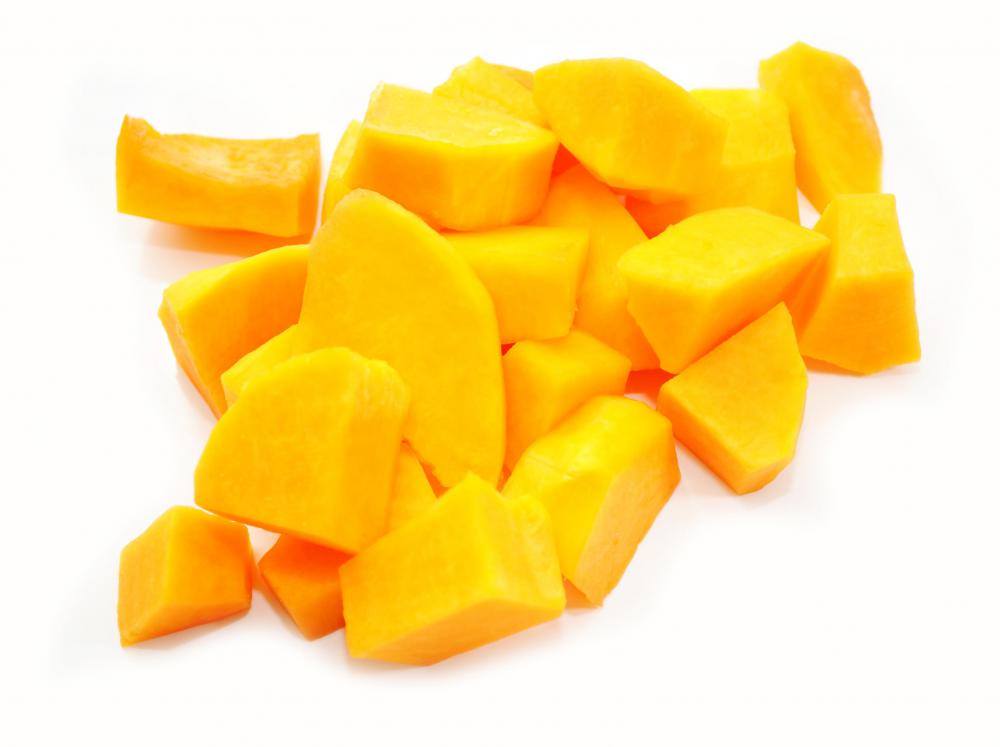 Ginger, curry or sage can make an excellent seasoning for butternut squash soup. It's not typically a good idea to use a combination of strong spices or herbs, as a medicine-like or too-strong flavor may be created that can also reduce the taste appeal of the butternut squash. For a creamy texture, milk or soy milk may be added to the vegetarian butternut squash soup as long as the heat is very low.
At serving time, a garnish may be added to the soup that compliments its flavors. Depending on the main herb or spice used, this could be some slivered almonds or chopped green onions. If a fresh herb is to be used in the vegetarian butternut squash soup, sage can be an excellent choice. A sprinkling of ground peppercorns, and salt, if needed, can be added to the soup by each diner at serving time.