What Are the Basics of Japanese Garden Design?
Basic elements of Japanese garden design are based on a traditional Japanese style that comes from the artistic expression of Buddhist and Shinto philosophies. The main function of these gardens is to provide tranquil environments, and the result often belies the complexity behind many of the designs. Every object is so placed for a reason. Basic Japanese garden design includes three main principles, characteristic elements, and basic style templates.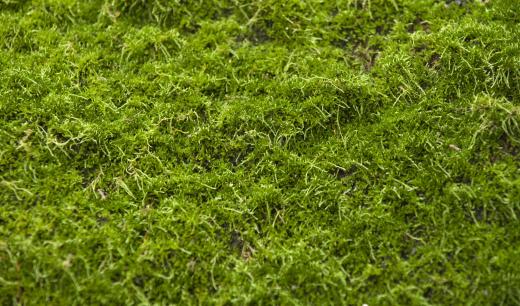 There are three main principles of Japanese garden design. The first is that the garden is intended to be a complete, miniaturized landscape. All the elements in garden should relate to each other, creating a whole that can be ideally viewed from different directions.
The second principle is to incorporate the garden into the existing landscape and plants rather than the other way around. Third, symbolism is very important, with each element having a meaning. For example, sand is often used to symbolize water.
There also basic elements characteristic of Japanese garden design. These include water, whether a pond, stream, or filled basin, a bridge or stepping stones, and plants. Other elements include arrangements made from rocks, stones, and sand. Lanterns, tea houses, or pavilions are also common design features. Finally, all gardens are enclosed by walls, hedges, or fences.
There are a number of basic designs used for this style of garden. One basic Japanese garden design is the Karesansui, or waterless garden. Rather than include a body of water, the water is instead symbolized by sand, which is often combed into flowing patterns. Other items are also used symbolically, such as rocks representing islands or mountains. The plants used in this type of garden tend to consist of small shrubs, miniature trees, and moss.
The Cha Niwa, or tea garden, design usually contains lanterns, water basins, and a tea house or pavilion. There is usually a stepping stone path leading from the garden entrance to the pavilion, and the garden in fact often serves as a backdrop surrounding this route. Although decorative in their own right, the water basins were traditionally used for guests to wash their hands before entering the tea house.
A Tsukiyama Japanese garden design often includes most of the elements seen in these traditional gardens and features artificial hills from which it derives its name. The intention of these gardens is to create miniaturized versions of famous landscapes. These gardens may be designed to only be viewed from a single perspective, such as from a pavilion, or may be large enough to walk through.
Tsubo Nwa gardens are designed for small spaces, such as terraces or courtyards. They are similar in composition to the Cha Niwa garden design and give the impression of a larger space. Often this is accomplished by cleverly using objects such as small trees to draw the eye away from buildings and toward a distant feature, such as a mountain. Kaiyu-shiki, or strolling gardens, combine a variety of the basic elements, with their design intending to allow guests to walk through, getting completely harmonized views from whichever direction they look.


By: Alex Petelin

Mosses, like that growing between these cobblestones, is often used as ground cover in a Japanese garden.

By: k_kron

Moss is important to a Japanese garden.

By: David Gn

All elements in a japanese garden should related to each other.