Miscellaneous
Fact Checked
Stylist aprons are protective aprons worn by hairstylists and makeup artists in order to protect their clothing from spills and stains. Stylist aprons generally also feature pockets in the front and sides for easy access to styling tools. This type of apron is generally not much different than a standard apron that may be worn for cooking, cleaning, or working outside, though some are coated with stain-resistant materials.
Stylist aprons come in many different colors and patterns, though white and black are probably the most common. They are generally designed with a strap around the neck and the waist, which may be easily tied to keep the apron in place; others have clips to make it easy to take the apron on and off without needing to untie any strings. The aprons typically cover the chest, and typically reach to the mid-thigh, to protect clothing but to make it easy to access the pockets. Some are longer, and may reach down to the knees.
Stylist aprons are typically fairly inexpensive, and may be ordered in bulk by salons or purchased individually by stylists; most can be ordered online or through beauty supply companies. Most stylists have more than one apron available for use, should one become stained or damaged. Stylist aprons may also be personalized, and could make a great gift for someone who has just graduated from cosmetology school or who is opening their own business. They are generally intended to be stain resistant and water resistant, due to the fact that stylists are often working with chemicals such as hair dye.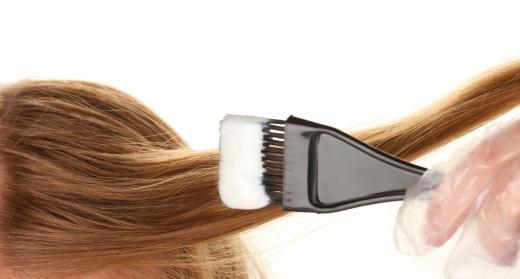 Stylist aprons should always be worn to avoid staining or getting loose hair on one's clothes. They should generally not be worn for activities other than their intended purpose, such as cooking or gardening. Instead, purchase designated aprons for those uses. In addition to pockets, a stylist apron might have hooks or clips along a belt, in order to hang items such as brushes or combs.
Any makeup or hair stylist who will be wearing a stylist apron all day will want to make sure that the garment fits well and is light. It should not be pulling or weighing heavily on the neck, and any weight in the pockets should be balanced and not cause strain on the back. This is particularly important for those stylists who spend all day on their feet. Comfortable, supportive shoes are important as well, to ensure good posture and minimize back strain.
AS FEATURED ON:
AS FEATURED ON:

By: kornienko

Hair styling products.

By: Africa Studio

Hair stylists work closely with staining substances like hair dye.

By: mikelaptev

A makeup artist may choose to wear a stylist apron.