What Are Strawberry Preserves?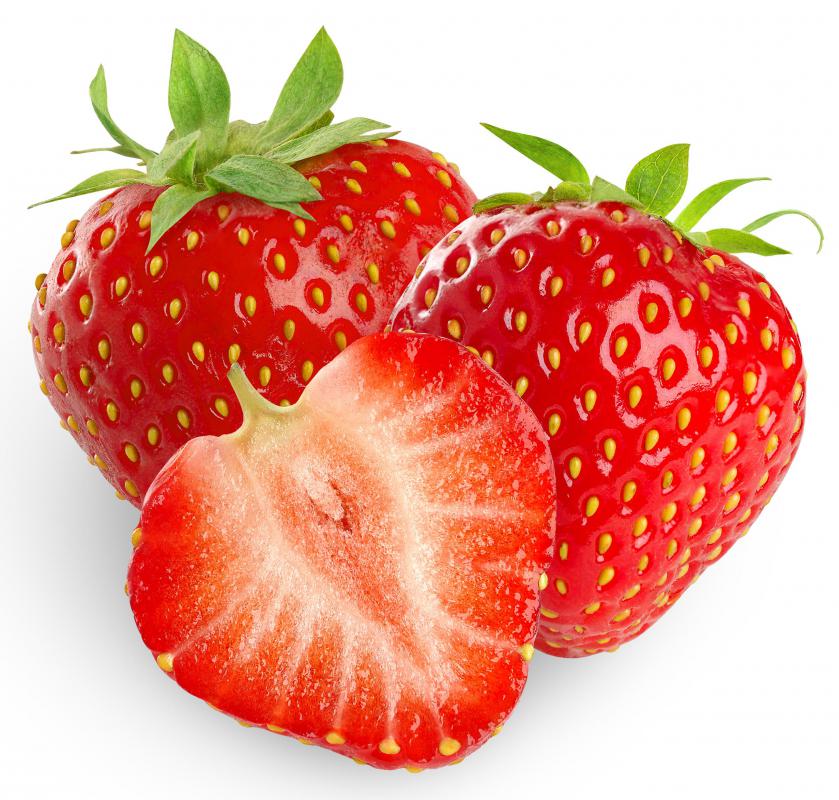 Strawberry preserves are flavored fruit preserves often spread on toast, bagels, and other similar bread items. This type of spread can be purchased in grocery stores, although many people prefer making preserves from scratch at home. The process of making and storing strawberry preserves is mostly the same as that for other types of preserved foods. The challenge that many novice preserve makers face is properly sealing the finished product in sterilized jars.
Ingredients for strawberry preserves usually include water, white granulated sugar, and ripe strawberries. The simplest recipes for these homemade preserves often call for the strawberries to be rinsed, dried, sliced into medium-sized pieces, mixed with the required amount of sugar, and left to set for 24 hours. This mixture is then steeped in boiling water until the sugar melts enough to cause the preserves to thicken. Strawberry preserves often have foam that needs to be skimmed off before canning to prevent air bubbles from forming in the finished mixture.
Some cooks prefer to first chill their mixtures of strawberries and sugar in the refrigerator for about three hours before thickening in boiling water. To keep the sugar from sticking to the sides of the cooking pot, this mixture usually needs to be stirred consistently for about three to five minutes. Once the thickening is complete, the sweetened and cooked fruit is stored in the refrigerator for an additional 24 hours. The cooled fruit preserves are then boiled and stirred for an additional five minutes before they are transferred to the preserve jars with a ladle. Strawberry preserves generally last the longest and remain fresh when they are stored in preserve jars with rubber seals designed to keep out bacteria.
While basic recipes for strawberry preserves can normally be thickened to a certain point with sugar alone, cooks who would like preserves with a consistency closer to that of jelly usually need to add pectin. This gelling ingredient is a common requirement for various fruit preserve flavors, and it can be found in both sweetened and unsweetened mixes. Pectin with added sugar is a popular alternative for preserves made with strawberries that may not be as ripe as recommended for the best flavor. Strawberries for preserves are ideally ripened to the point of being deep red in color, though they may not always be available in every area during certain times of the year.
By: Anna Kucherova

Strawberries.

By: M.studio

Strawberry preserves pooled around a dessert.

By: Dmitriy Syechin

When making preserves, a person needs to make sure their strawberries are ripe.

By: ILYA AKINSHIN

A ladle is a helpful tool to have on hand when canning preserves.