What Are Sourdough Pancakes?
Sourdough pancakes are a type of pancakes that are made with sourdough rather than traditional pancake batter. Originating in San Francisco, sourdough is a specific type of bread dough that uses wild yeast. The sourdough adds a slightly sour twist to the traditional pancake taste. Sourdough pancakes usually are homemade and use many of the same ingredients that traditional pancake batter uses, with the addition of a sourdough starter.
Like most pancake batter, sourdough pancake batter uses flour, baking soda, eggs and water. Milk, vanilla extract and butter might also be included in the batter. In addition to these ingredients, sourdough pancakes must include a sourdough starter. Starters can be bought in stores but are more often homemade. Many starter recipes do not produce authentic sourdough because they use a general active yeast rather the specific wild yeast required for the authentic version, but they still create a reasonable substitute.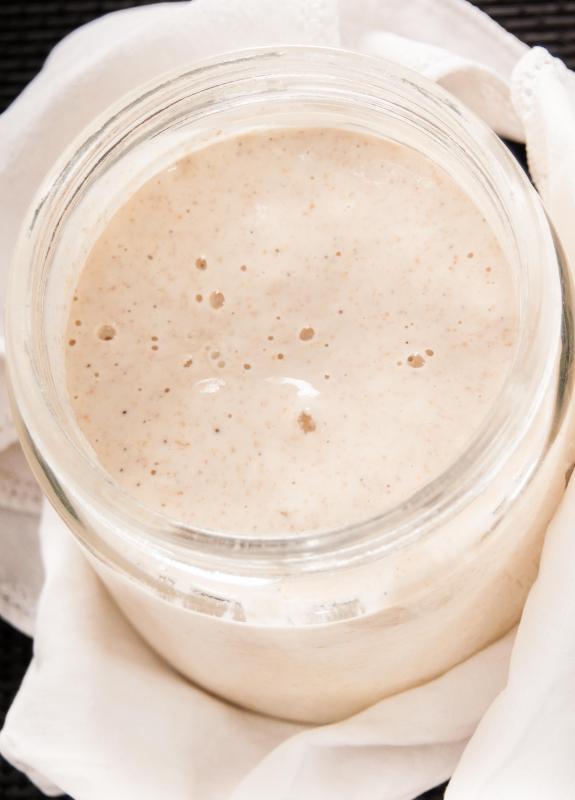 The starter is made by combining active dry yeast and sugar with warm water and allowing the mixture to bubble. Then, flour is stirred into the mix. The starter is covered and placed in a warm area for about three to 24 hours before it can be used. More flour and water can be added to the leftover starter, which will keep for years when refrigerated.
After the starter is ready, the batter can be made. Some recipes suggest simply mixing all the ingredients together, but others recommended mixing the wet and dry ingredients separately first, then combining them. After the batter is thoroughly mixed, it should have a consistency similar to heavy cream. Then, small portions can be poured onto a griddle or a non-stick frying pan to cook. Vegetable oil can be used to coat the frying pan if it is not a non-stick pan.
Sourdough pancakes should be flipped while cooking once to ensure that both sides are a light golden brown. Like traditional pancakes, this version normally is made in batches with only one or two pancakes cooked at a time, depending on the size of the pan. The finished pancakes should be kept warm while the others cook.
Fruit can be added to sourdough pancakes, either in the batter itself or used as a topping. Although fresh fruit normally is added to the batter itself, toppings can be fresh or jarred. Blueberries, in particular, are a popular fruit addition. These pancakes also can be served with butter, syrup or whipped cream. In addition to pancakes, waffles can be made from this sourdough batter.
By: Aaron Amat

A frying pan, which is use to make sourdough pancakes.

By: Tsuboya

Some people like to add whipped cream on top of their pancakes.

By: serenacar

Sourdough pancakes have sourdough starter added to the batter.

By: Magdalena Kucova

Fruit can be added to sourdough pancakes, either in the batter itself or used as a topping.