What are Some Types of Finger Foods for Babies?
Starting finger foods is a big milestone in a baby's first year. After two or three months of pureed baby food, most babies are eager to try the food that their parents are eating. Sometime between seven and eight months is the recommended time to start finger foods for babies. There are several starter foods that are just right for these first foods.
Some baby-food producers make special finger foods for babies. These include teether biscuits and cereal-like puffs. These finger foods melt in the mouth, making it less likely an infant will choke on them. The puffs come in multiple flavors, and are manufactured by a few different companies. Another great finger food idea is toasted oats cereal. They are perfect for infants working on their pincher grasp, and dissolve fairly easily. Rice cakes and toast are other good options, as they are easy to chew and little hands can easily hold them.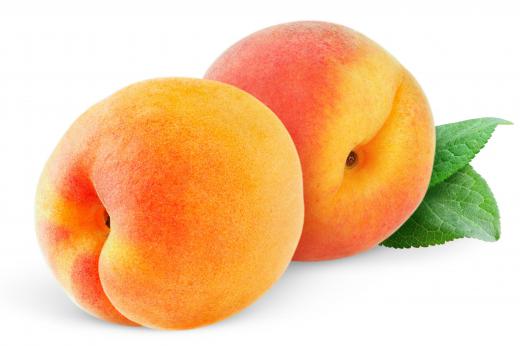 Babies love anything sweet. Fruits are an excellent choice for finger foods for babies. Soft fruits, like bananas and peaches, are great options. Grapes and hard fruit should be avoided at this point, along with anything citrus. Apples can be skinned and cooked on the stove in a bit of butter until they are soft. Soft-cooked vegetables, such as peas, carrots, and beans, are other options. Spinach is also easy for a baby to eat. Babies love picking it up and feeling the texture before they eat it. Some babies also like pieces of ripe avocados, watermelon, cantaloupe, and honeydew melons.
As children near ten months old, they can start experimenting with even more finger foods. This is a great time to introduce cheese cubes and cooked pasta. Spaghetti is a very popular finger food for babies. Cooked rice, mixed with diced vegetables, gives babies a bit of variety. Bits of chicken, turkey, or meats can also be introduced at this time. Grapes, peeled and quartered, make a great snack. Green beans are another fun idea. Wheat or cheese crackers are great finger foods for babies.
There are many choices when choosing finger foods for babies. Many makers of infants' food also make great starter finger foods. There are also a lot of home-made options. Babies enjoy anything that is soft and easy to grab. Babies sometimes need to be introduced to a food several times before they enjoy it. Introducing health eating habits young may not only lead to a lifetime of smart food choices, but also an interest in trying new foods.


By: Elena Schweitzer

Babies can eat ripe cantaloupe.

By: Alessio Cola

Many babies like spinach.

By: Anna Kucherova

Sliced peaches are a good food for babies.

By: Richard Villalon

Babies may enjoy very small pieces of avocado.

By: Celso Diniz

Bananas are good finger foods for babies.

By: msk.nina

Grapes that are peeled and quartered may be served to babies when they are 10 months old.

By: eAlisa

Toasted oats cereal is a good finger food for babies.

By: thomaszobl

Ripe honeydew melon is considered a good food for babies of a certain age.