What are Some Common Foodborne Illnesses?
There are a number of common foodborne illnesses, mostly caused by bacteria and resulting most frequently from unsafe food handling and preparation. The most commonly recognized forms of foodborne illnesses are caused by bacteria. Though the CDC recognizes over 250 identified foodborne illnesses, the most common sources are bacterial and include Campylobacter, Salmonella, and E.coli.
Campylobacter is a bacterial pathogen that causes campylobacteriosis, or more commonly, a form of food poisoning. The bacteria are found in the intestines of healthy birds and while they do not affect the birds, the bacteria do affect humans. Most raw poultry contains Campylobacter but proper cooking of the meat kills the bacteria. The most common source of campylobacteriosis is contamination from the drippings of raw poultry or eating the meat undercooked.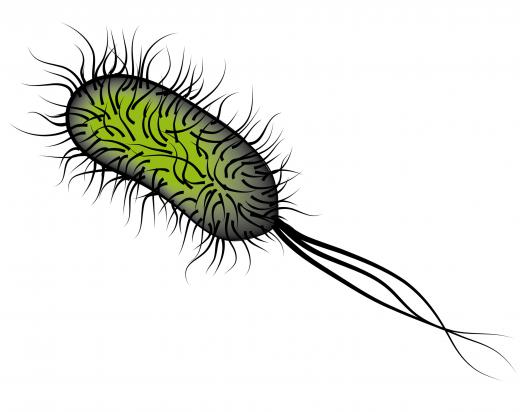 The symptoms of campylobacteriosis include diarrhea, nausea, vomiting, abdominal pain and cramping and fever. Most people infected with Campylobacter recover without further complications in about 3 to 5 days and some people infected with this bacteria do not show any symptoms at all. The most common complication associated with this foodborne illness is dehydration.
Salmonella and E.coli are two other causes of foodborne illnesses well known to the general public. Salmonella causes salmonellosis, a bacterial infection that can cause nausea, vomiting, diarrhea and abdominal cramps. Salmonella is widespread in the intestines of many animals, including humans. It is most commonly transmitted through feces and can become foodborne if food has been contaminated. Eating raw and undercooked foods containing Salmonella can cause the illness.
E.coli, short for Escherichia coli, is also a bacteria and is commonly found in cattle and other similar animals. There are several different strains of E.coli, some of which are harmless, many of which are toxins. While undercooked beef can be a source of E.coli, other foods can become contaminated by the feces of an animal with the bacteria. Unlike many other foodborne illnesses, E.coli may not surface for several days to weeks after consuming the bacteria and complications from the illness can be more severe. However, E.coli and other common foodborne illnesses can be prevented with proper and safe food handling.
To reduce the risk of becoming infected with these and other foodborne bacteria, do not consume raw meat, poultry, or eggs. Always store food according to package directions and do not let cooked food stand at room temperature for longer than one hour. Always wash raw fruit and vegetables before eating and be sure to thoroughly wash preparation surfaces, utensils, and hands after handling raw foods. For more information about these and other foodborne illnesses, their risks, and symptoms, visit the website for the Centers for Disease Control and Prevention (CDC).
AS FEATURED ON:
AS FEATURED ON:

By: Lyuba Bunakova

A Salmonella bacterium, a common cause of food poisoning.

By: Dessie

Salmonella is a common foodborne illness that may cause abdominal cramps.

By: evgenyatamanenko

Food poisoning often causes fever.

By: valery121283

E. coli can be contracted from raw beef.

By: Bill

Often contracted from raw chicken, salmonellosis usually heals on its own within four to seven days.