Often thought to have originated in the United Kingdom, rock cakes are similar in appearance to scones and are characterized by the inclusion of dried fruit in the basic recipe. Considered to be an example of a sweet that requires little in the way of ingredients and not a long cooking time, rock cakes tend to be popular with people on a budget. Rock cakes are ideal for persons who are thrifty but still want to enjoy a treat, but may not want to go to the time or expense involved in the preparation of proper tea cakes.
The ingredients for a rock cake are very simple. Self-rising flour forms the basis for the cakes, along with an ample amount of softened butter. In some recipes eggs are also used as part of the liquid in the preparation, although it is more common to use skim milk powder and a small amount of water. Baking soda and any combination of dried fruits round out the items needed to create rock cakes.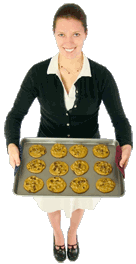 The process for making rock cakes is very simple. All the ingredients except the dried fruit are combined and slowly worked into dough. Once the dough is prepared, the dried fruit is introduced into the mixture, slowly worked evenly into the dough. The rock cakes are segmented and rolled onto a baking sheet. The cakes are baked at a low heat for roughly twenty minutes, and may be eaten fresh and hot, or slathered with jam or more butter. As a relatively inexpensive compliment to tea or coffee, rock cakes are a nice change from other pastries that contain a lot of sugar or are coated with heavy frostings.
The general texture of rock cakes is an exterior that is not unlike that of a freshly baked cookie. The interior is soft and slightly fluffy, but less so than a scone. Rock cakes are served shortly after baking, and are not intended to be prepared in advance, as they have a tendency to harden overnight.
AS FEATURED ON:
AS FEATURED ON:

Woman baking cookies