What are Red Wiggler Worms?
Also known as brandling worms, tiger worms, or manure worms, red wiggler worms (Eisenia fetida) are among the most popular types of earthworms used for organic waste composting, also called vermicomposting. These worms consume items commonly placed in compost bins, such as vegetable and fruit scraps, tea bags, pulverized egg shells, and coffee grinds. After digesting their food, they excrete "castings," a natural fertilizer that is rich in potassium, nitrogen, and phosphorous. These castings may then be used as mulch, plant potting soil supplement, or lawn conditioner. Red wiggler worms are also sometimes used as fishing bait.
Red wiggler worms can be found naturally in manure piles; however, most people find it easier to order them online. Gardening mail-order suppliers and fishing shops often carry them. The number required to effectively compost depends on the amount of food waste, but as a general rule, 1 pound (0.45 kg) of waste materials per day requires 2 pounds (0.9 kg) of worms. Under ideal conditions, red wiggler worms can eat their weight in organic material daily.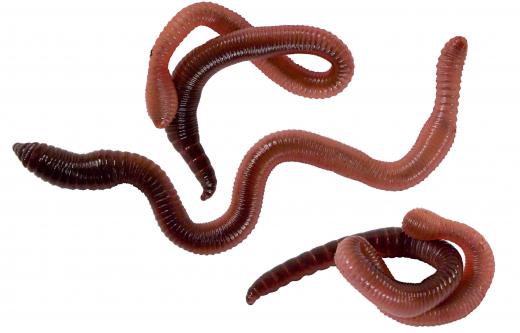 Food waste such as meats, dairy products, and grains should be kept out of worm composting, as these are likely to putrefy and attract rodents and flies. If red wiggler worms are taken care of properly during vermicompost, they shouldn't cause offensive odors. One way of preventing odors during worm composting is to always "bury" new food waste rather than dumping it on top of the compost pile. As well, the compost should be maintained so that the worms are kept away from the castings they produce. Certain vermicompost bins on the market facilitate this separation.
Compared to certain brands of organic fertilizer and even animal manure, worm castings have been shown to cause the least damage to water supplies. Unlike the animals that produce manure used as fertilizer for food crops, worms are incapable of contracting and spreading diseases. In fact, a worm's digestive track removes the pathogens that cause disease from the food they ingest.
AS FEATURED ON:
AS FEATURED ON:

By: Dusty Cline

Red wiggler worms.

By: sacratomato_hr

Castings from red wiggler worms are considered excellent for use as fertilizer.

By: fotomatrix

Egg shells are good candidates for a home compost pile and are good food for red wiggler worms.

Red wiggler worms might be used as fishing bait for bass.