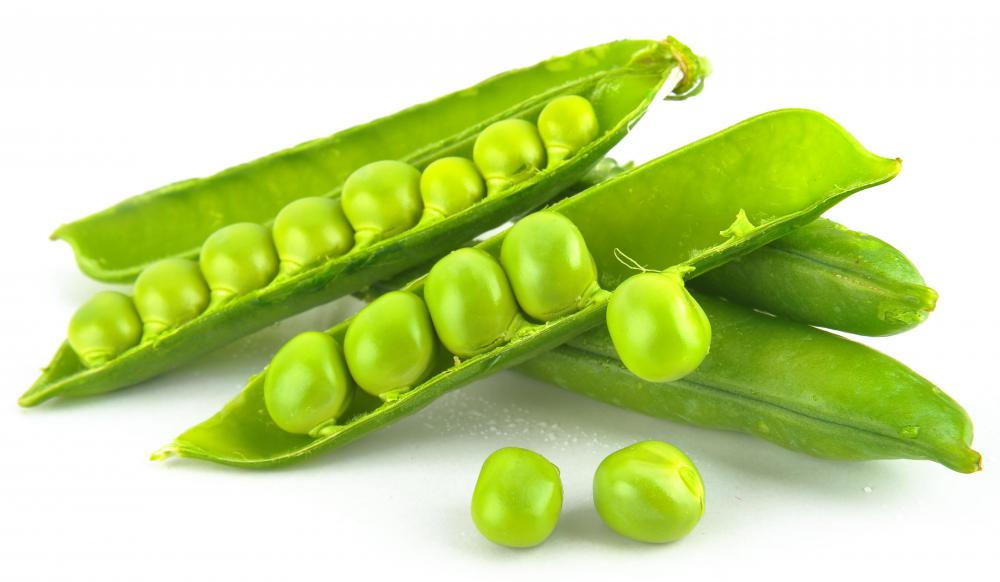 Petits pois, French for small pea, are tiny green peas — the small, spherical seeds from a legume seed pod. There are quite a few varieties of pea plants, and any variety of small green pea can be labeled as petits pois. They are one of the oldest cultivated crops, and the most common variety grown in many gardens is Pisum sativum. While peas are technically a fruit, many people consider them to be a vegetable. There are many recipes that use these bright, tender seeds — often found in soups, purees, and sauces.
The pea plant is an herbaceous annual and is common throughout most of the world. It typically has quite a few leaves attached to either its climbing or trailing stems. In the garden, the climbing variety of this plant requires some form of trellis or fence to attach itself to, with its little tendrils, which help it attach to a surface and ascend it. Its butterfly-shaped flowers can be either pink, purple, or white. When developed, the pods usually contain five to ten peas each. Young pods typically have seeds that are small, tender, and sweet, and these are the ones used as petits pois.
To prepare traditional petits pois, the peas are removed from their pods and then steamed or boiled. This cooking helps bring out the natural sweetness of the seeds, and also breaks down the peas' cellular walls so they are more tender. These peas are generally easier to find in the freezer or canned goods sections of stores because they are usually a seasonal product. They are also sometimes called small early peas, small sweet peas, or baby peas.
It is easy to prepare a simple side dish of petits pois. To do so, frozen or fresh peas are usually cooked in boiling water until they are tender and their green color intensifies, which takes only a few minutes. When at this stage, drain them and then toss the peas in a little butter and season with salt and pepper. Before serving, the dish may also be sprinkled with a little lemon zest. Petits pois are also used in main dish recipes, like casseroles and soups.
A popular way to make a pea soup with them begins with gently sautéeing leeks and onions in butter, until they are translucent and tender. These are then combined with chicken or vegetable stock and the petits pois, and the mixture is allowed to simmer until the peas are tender. The soup is then transferred to a blender and pureed until smooth. Cream is added prior to serving, to finish the soup and give it a richer flavor and texture. This soup may be served warm or chilled.
Any small green peas can be labeled petits pois.

To prepare traditional petits pois, the peas are removed from their pods and then steamed or boiled.