What are Multifamily Homes?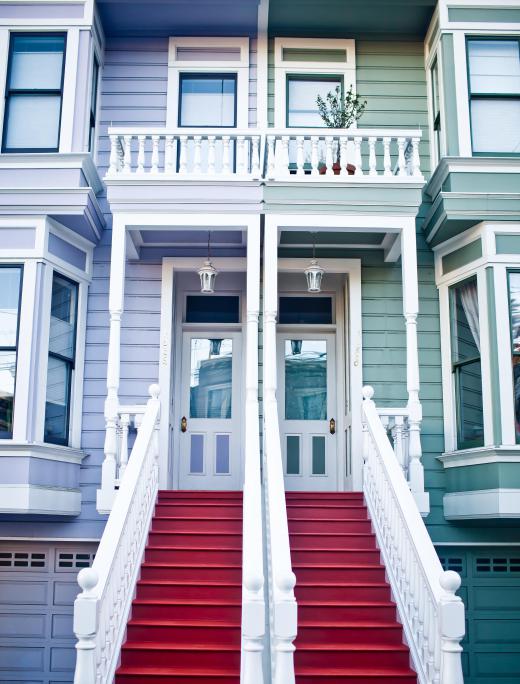 Multifamily homes are structures built specifically to allow more than one family to reside in them, each in separate accommodations. The two most common types of multifamily homes are the duplex and the single or two-story apartment, or condominium, complex. While high-rise buildings certainly house multiple families, they are usually not included in this category.
A duplex often looks like two single-family homes placed next to each other. The difference is that these two homes share a common wall. Most any style of home can be built as a duplex, from a traditional brick ranch home to a three-story stucco bungalow. More often than not, both sides of the duplex have nearly identical interior floor plans, so they appear to be a mirror image of one another, inside and outside.
At times, there are variations on the duplex, such as a tri-plex, which houses three families, or a quadro-plex, which houses four separate families. Such units may still be situated side-by-side or they may have a different configuration, such as two units on the bottom floor and one on the top. Sometimes one of the units is in the basement with the others directly on top of it. This type of design is known as piggy-back.
Condominium or apartment complexes, which are also considered multifamily homes, come in various shapes and sizes. It may be difficult to tell that such a building is a multifamily home by just looking at the exterior. These structures can have one central front door and resemble a very large single-family home. Others may have distinct doorways and garages in front of each unit, these building are often reminiscent of a row of townhouses.
Often, multifamily homes have a separate backyard for each unit. Sometimes the units have no yard at all or include a single yard that must be shared by all of the residents. Often, such matters depend on the property lines and how they are divided.
People who wish to buy multifamily homes may choose to purchase by the unit or to acquire the entire building. It is easier to buy the entire building if it is, or will be, vacant, but it is possible to purchase one with rental tenants living inside. When buying a building with such tenants, the buyer must typically honor any existing leases. Often, a buyer wishing to purchase a multifamily home owned by more than one family will have to negotiate a sale with each individual owner.


By: Andrew Bayda

Duplex homes share a common wall.

By: dbvirago

Condominium buildings are considered multifamily homes.