What are Loyalty Programs?
Loyalty programs are initiated by businesses with two main goals: getting information relating to customers spending habits and to actively cultivate loyalty among customers to ensure that they continue patronizing the business. While some companies do reverse these priorities, the above hierarchy holds true for most.
Many loyalty programs offer a sustained discount (such as 10%) for a period of time — perhaps a year, perhaps for the life of the business. Others offer a discount once certain criteria have been met. For example, it might entitle a customer to a 20% discount on a single purchase once he or she has spent $200 US Dollars (USD) at the business. Still others offer points that may then be redeemed for products that may or may not be directly related to the business.
Loyalty cards are the most common form of such programs found throughout the world today. In the United States, almost 75% of consumers have at least one card, with over a third of all shoppers with two or more. Major supermarket chains nearly all have loyalty cards, also known as rewards cards or benefit cards. These supermarket programs usually operate by offering a discount on certain products, usually marked throughout the store, to those who have a card. In exchange for this discount, customers are giving the store access to itemized receipts of their buying habits in the store, allowing the business to better cater to their needs and build product purchasing and discounting to help retain their most profitable customers.
Some of the first loyalty programs were instituted by airlines in the 1970s in the form of frequent flyer miles. In these programs, a customer accrues points by flying on the airline and then can cash in the points in exchange for tickets, upgrades, or even third-party benefits. In the past, many non-airline businesses have combined their own loyalty programs with those of the airlines, offering frequent flyer miles in exchange for everything from telephone usage to purchasing gasoline.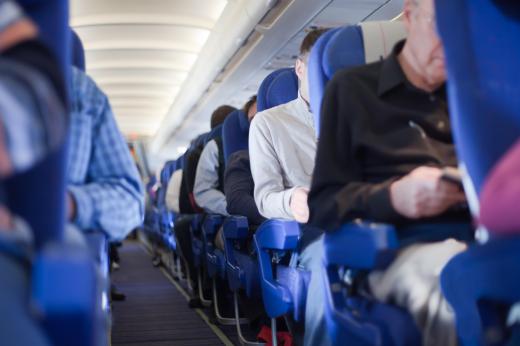 These programs have gained in popularity immensely in the past 15 years, in no small part due to the development of a culture of entitlement, in which consumers feel that they deserve special treatment. Businesses have capitalized on this when designing their programs, often offering benefits that cost little but carry with them an assumed prestige, such as access to faster-moving lines or special parking spaces.
Ultimately, the success of loyalty programs depends on how well the business uses the data it gathers to further refine its policies. Many businesses find little profit in their use, while others attribute much of their financial success to a well-executed use of such programs.
AS FEATURED ON:
AS FEATURED ON:

By: sint

Gas station loyalty programs encourage customers to stick to one brand.

By: Pavel Losevsky

Offering frequent flyer miles is a common airline loyalty program.

By: Pavel Losevsky

Most airline affinity programs award passengers with points that can be used toward future tickets.

By: Monkey Business

Grocery stores offer frequent shopper cards where customers can earn points that can be used of cash back on future orders.

By: michaeljung

Loyalty programs offered by companies include discounts of certain products.

By: David Davis

Loyalty programs incentive consumers into additional spending.

By: nito

An individual who is a frequent flyer may receive complimentary items when boarding their flights.