What are Legal Assistants?
Legal assistants, or paralegals, generally support the work of lawyers in all fields. Such work may include organizing files, scheduling, holding preliminary meetings with clients, researching legal precedents, preparing lawyers for court cases, and drafting legal briefs. Legal assistants can come to the field with a Bachelor's Degree, an Associated Arts Degree, and/or certification from various programs offered at business or community colleges. In some cases, legal assistants do not possess any of the above requirements, but have some experience in the field of law that makes them eligible candidates for employment.
In general, more educated legal assistants get the better jobs. Most large firms will require certification or significant experience before hire. Larger firms are more likely to require a great deal of overtime, so a regular 40 hour work week may not be possible, and a paralegal may work late nights or weekends. Smaller firms may be willing to consider a less experienced candidate, depending upon their needs. Working first as a secretary in a law firm may increase one's opportunities for later gaining employment as a paralegal.
The type of work one does as a paralegal largely depends upon the needs of the attorney. Some legal assistants mostly provide secretarial assistance, such as answering phones or filing. Inquiring about the specific duties one may encounter in a job can help differentiate between employers seeking secretaries and employers seeking more direct work with researching law and writing briefs. In no case will legal assistants represent clients in court, although they may be present to assist attorneys.
For those who hold 4-year degrees, working as a legal assistant can help determine whether a career as a lawyer is desirable. Lawyers are responsible for any work originating from their office. Hence legal assistants, when drafting briefs or doing research, are doing the same kind of work a lawyer does.
Law schools often give more consideration to candidates who are experienced paralegals, so experience in this field may increase one's chances of acceptance to a better law school, and may also help in preparation for taking the LSAT, a standard test for anyone applying to a law school. The United States Bureau of Labor Statistics expects significant growth in the employment of legal assistants through the year 2014. Since employers are continually attempting to cut costs, hiring legal assistants to do much of the work lawyers normally do makes economic sense, since paralegals earn significantly less than lawyers.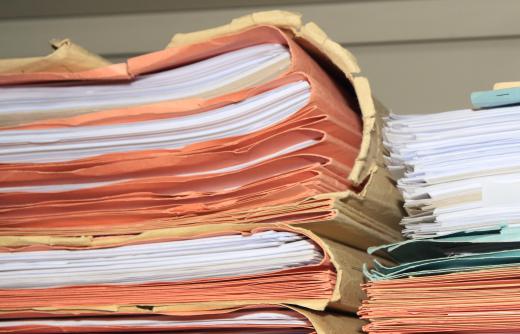 In 2004, the Bureau of Labor Statistics reported that there were currently over 200,000 legal assistants employed in the U.S., and that median earnings were just under 40,000 US Dollars (USD). The highest paid positions for legal assistants seem largely to originate from the Federal Government, with salaries close to 60,000 USD. The lowest paid positions are generally at smaller law firms, with the lowest 10% of positions paying slightly under 25,00 USD.
AS FEATURED ON:
AS FEATURED ON:

By: George Wada

Legal aides might research legal precedents.

By: George Wada

Many attorneys have legal assistants.

By: Steve Morvay

Legal assistants are often tasked with organizing files.

By: Gina Sanders

The type of work perfomed by legal assistants depends on the needs the the attorney.