What are Grilling Planks?
Grilling planks are pieces of wood which are used to hold foods while they are grilled. They are particularly popular for fish, especially salmon, although they can also be used with meats as well. Humans have been using grilling planks for centuries, and they experienced a resurgence in popularity in the late 1990s.
There are several reasons to use a grilling plank. The first is that the plank can be used to hold delicate meats and fish which might fall apart if they were grilled directly. It also keeps foods moist, and prevents burning. Most are made from aromatic woods, so they add unique flavors and scents to the finished food. Using a grilling plank will also enhance the smoky flavor of grilling or barbecuing.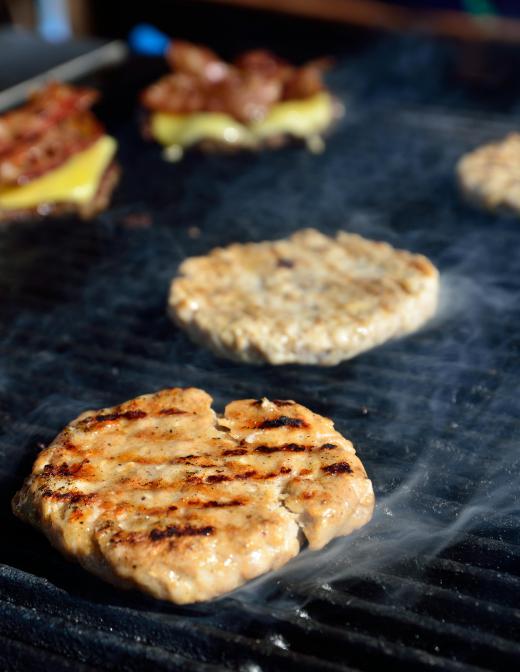 To use a grilling plank, cooks soak the plank for two to four hours before use. The soaking will prevent the wood from splitting or catching fire on the grill. After the plank is removed from the water, the side which will hold the food is oiled slightly, to prevent sticking, and then the food is arranged on top and the plank is placed over the fire. It is important to check the temperature of the food when using a grilling plank, to ensure that it is cooked all the way through.
A number of different woods are used to make grilling planks, including oak, cedar, alder, beechnut, cherry, walnut, hickory, birch, and apple. Hardwoods tend to be the most suitable, since they will withstand high heat for long periods of time, and they will not break down through repeated uses. A cedar plank is an excellent choice for salmon and fish, while an oak plank will pair well with robust meats like hamburgers.
If you purchase a plank from a lumber supply with the intention of turning it into a grilling plank, make sure that the wood has not been treated. Many woods are treated to prevent insect infestation, mold, and rot. The substances used to treat wood are not safe for human consumption, and they will be absorbed into foods cooked on planks made from treated wood.
AS FEATURED ON:
AS FEATURED ON:

By: noppasit

Grilling planks help to keep food moist and prevents burning.

By: GraphicCompressor

Soaking a grilling plan prior to use prevents the wood from splitting and catching on fire.

By: seqoya

Grilling planks are a good tool for cooking salmon.