Green gadgets are electronic devices and other types of gadgets that are designed to be environmentally friendly and require little in the way of energy and resources. These types of devices will often run on renewable power like solar or wind energy, or require no electrical power at all to run properly. They may also be gadgets that use little in the way of supplies or that can be reused nearly indefinitely to create less waste and use fewer resources. While they may make small differences initially, such devices used together to replace more consumptive gadgets can make a larger difference on environmental impact.
Many green gadgets are electronic devices that run on renewable sources of energy, such as solar and wind generated power. These may include outdoor devices such as lawn ornaments that can turn or spin while using solar energy or to create energy from wind. They may also be more practical devices such as solar powered outdoor thermometers, clocks, and barometers. Other types of outdoor green gadgets would include external lighting powered by solar panels, solar cookers that harness heat from the sun to cook food, and even solar powered pool heaters.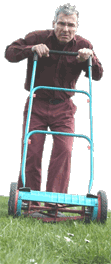 Green gadgets can also include less practical and more recreational sorts of devices that are similarly powered or have a low impact on the environment. A number of companies make toys that take advantage of clean power sources, while also fostering an interest in science in children who play with them. These can include robot kits that allow the construction of small solar powered robots or hydrogen powered toy cars that run primarily on water. Other fairly practical indoor green gadgets can be found as well, such as solar powered television remote controls, staplers that do not actually require staples, and solar powered desk fans.
Some devices that are not initially constructed or designed to be particularly non-invasive toward the ecosystem and the environment can also be used in ways that are less wasteful. Rechargeable devices can be recharged with green gadgets that convert solar power into a charge that is then transferred into the device. Standard electronic devices can also be charged with more practical chargers that still use household or office power sources, but that ensure that once a device is fully charged it no longer draws power from the socket. Most rechargeable devices will pull energy from an electrical outlet even when fully charged, and using devices to prevent that is not only more environmentally sound, but can help save money on electric bills.
AS FEATURED ON:
AS FEATURED ON:

Man mowing the grass