Fur coats are outerwear that is made from the pelts of animals. Some of these animals include foxes, mink, certain large cats, ermine, seals, otter, and rabbits. Usually animals that produce wool, like sheep, are not fur animals, though whole skins of these animals may sometimes be used in coats.
One advantage to fur coats is that they tend to provide significant warmth, and humans have used them for millennia for this purpose. In the past it was common to not just make coats of fur, but also to make various other types of clothing with them. Today, fur trim might decorate other clothing but fur coats are one of the more common uses of fur.
There is considerable controversy regarding the use of fur coats, since animals must be killed in order to obtain fur. The introduction of so many fibers that may actually maintain warmth as well as or better than fur makes fur superfluous under most circumstances. For this reason, fur coats are thought highly fashionable, especially in the industrialized world, without being truly necessary. They are usually far more expensive than coats made out of other natural or synthetic materials, and for the fur "look" many people turn to beautifully manufactured forms of faux fur.
This isn't always the case. Some people still prefer real fur coats and pay thousands of dollars to get high quality ones. Less expensive forms of fur like rabbit may be purchased much more inexpensively. The use of fur can lead to significant clashes between anti-fur and pro-fur activists. Especially in urban areas, anti-fur groups may protest loudly outside of known furriers or stores that sell fur.
Activism regarding fur in the United States has contributed to making fur coat sales much more rare, which generally only increases price, and may increase desirability for some people. Fur is still available in many stores locally in the US, though there have been some efforts to ban certain types of hunting that exploit animals who are endangered or that are hunted only for fur, which have been partly successful. Most fur animals are raised rather than hunted, however. Fur use for coats in other countries varies and may depend upon local traditions, styles and the way individuals view the fur trade industry.
Even in countries where this issue is contentious, coats of fur are still easy to find and various types and styles of coats may reflect current fashion trends. Different styles of coats can include long coats modeled on the trench coat type, wraps, short or pea coat styles, and fur jackets. One of the things that must be observed with fur clothing is appropriate care and cleaning. Sellers of fur will offer plenty of tips for care, and these coats are usually never machine washable. Instead, they must be taken to cleaners that are experienced in cleaning fur.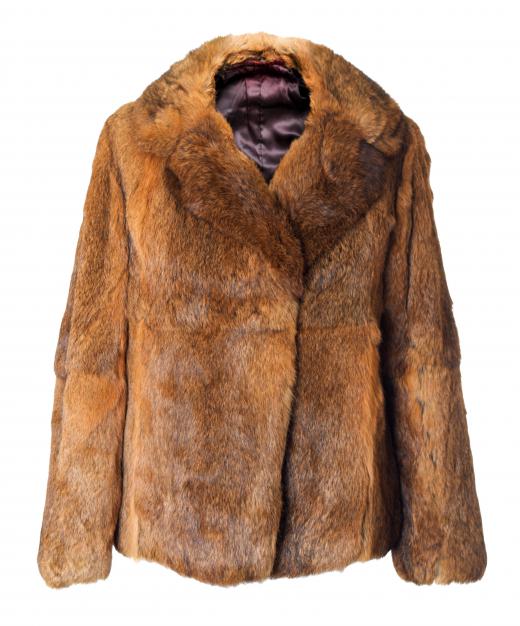 Many forms of faux fur coats have an advantage in this respect. In addition to being available in as many styles as true fur coats, they may have much easier care instructions. Some can be popped into the washing machine and dried in a dryer, which can save time and money.


By: Eric Isselée

Otters are sometimes used to make fur coats.

By: hui_u

Rabbit fur is sometimes used to make fur coats.

By: Eric Isselée

Pelts from minks are frequently used to make fur coats.

By: smirno

Real mink fur coats are still preferred by some people, despite activism that protests killing the animals for their fur.

By: Virginie Soucaze

Chinchillas are endangered because people have hunted them to create fur coats.

By: zakaz

Fur coats tend to provide significant warmth, which is why they've been used by humans for centuries.