What are Bare Root Trees?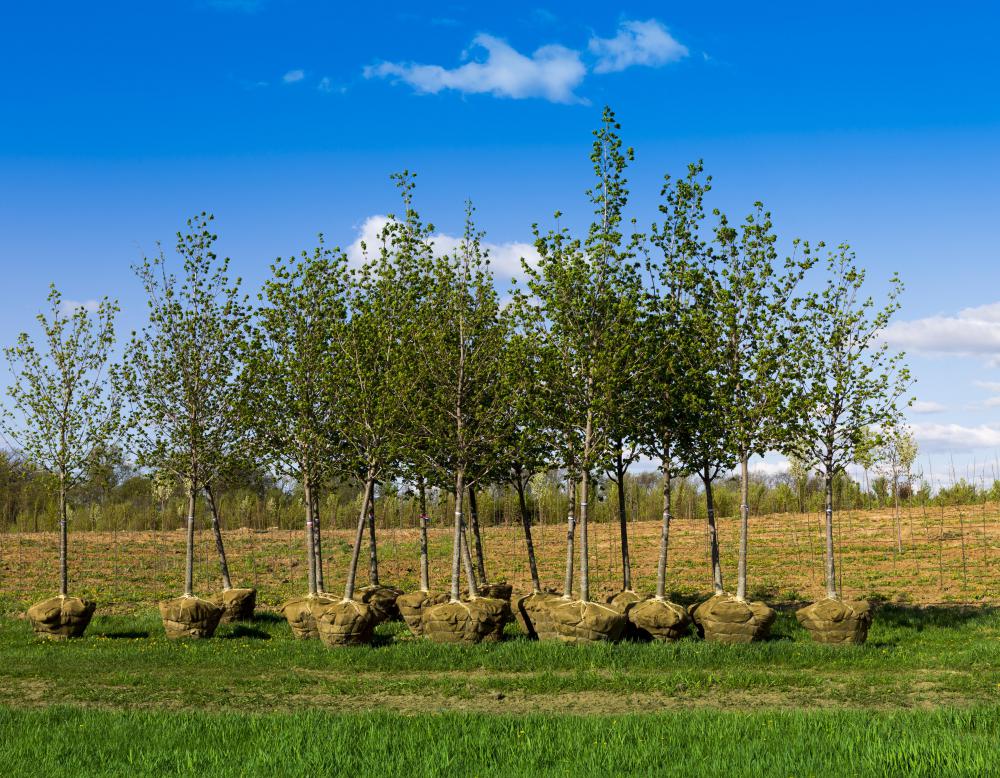 Bare root trees are trees which are carefully dug up at their nurseries of origin and sold or shipped with their roots bare, meaning that most of the dirt around the roots has been removed. In addition to trees, shrubs can also be purchased in bare root form; bare root roses are especially common. There are a number of advantages to using bare root trees which cause gardeners to actively seek them out, although there are also some cautions to think about when ordering bare root trees.
One of the primary advantages of bare root trees is that they tend to have an extensive, well developed root system, as a result of being allowed to develop normally, rather than being grown in containers. When the trees are handled well, the root system is left intact, and the trees will have a better chance of rooting well and surviving when planted. Bare root trees are also cheaper to ship because the lack of a dirt ball makes them much lighter, and this lightness makes them easier to handle.
There are, of course, disadvantages to bare root trees. The primary disadvantage is that they are extremely vulnerable. If they are allowed to dry out, the trees will die or fail to thrive once planted. As a result, it is extremely important to purchase fresh bare root trees; ideally trees and shrubs which are dug out of the ground right in front of you. If you are ordering bare root trees for shipment, specify the fastest shipping method possible, and plan on being home when they arrive to take care of them.
The planting times for bare root trees are also limited. These trees can only be planted in the early spring or late fall, after they have gone dormant, and while the soil is extremely moist. Some trees are also not suitable for bare root planting; as a general rule, these trees are not offered for sale in bare root form.
The age of bare root trees and shrubs varies. Generally they are between a year and three years old, and staff at the nursery will hopefully have pruned, shaped, and cared for the tree to ensure that it has a great start in life. You will not be able to see much when you purchase a bare root tree, as it will be leafless and dull since it is in a dormant state, but in the late spring, it will come to life and transform the garden.
There are several steps to planting bare root trees. The first is soaking the tree in a tub of water for between two and six hours, while you prepare the soil for planting. First, turn up the soil in a wide radius around the area where you plan to plant, making it easier for the roots to stretch out. Then, dig a big hole; this hole should be much larger than the root ball of the tree, to ensure that the roots will stretch out, rather than being compressed in the planting process.
Next, wrangle an assistant. While one of you holds the tree in the hole, the other should gently shovel in dirt, trying not to pack it down too hard, as you want the soil to be loose. Make sure that the assistant holds the tree level, and in such a way that the roots are suspended in the hole, rather than pressed against the bottom. As you shovel in soil, make sure that the roots are spread well apart. When the planting is finished, mulch the tree, leaving a small radius of unmulched soil around the trunk, and water the tree well every seven to 10 days for the first year, adding recommended fertilizers for the specific tree you have planted in the spring to encourage healthy growth.
Most tree seedlings are sold with dirt surrounding their roots.